Please note that this tool is part of our Labs and our technical support department cannot provide assistance with it.
As the name indicates, the Send A Fax tool can be used to send individual fax transmissions to a fax machine. This utility can be found in the Member Tools interface at: https://members.sonic.net/labs/fax/
As the tool indicates, input the destination fax number, drag/drop your PDF/text file, input your preferred notification email address if it is different from the account default, and click the "Send Fax" button. You also have the option of including a cover letter.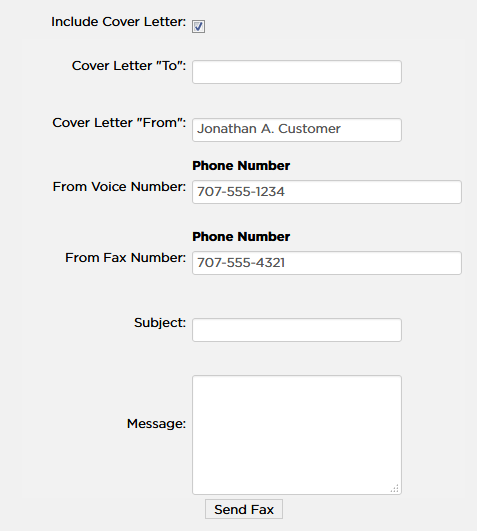 All Sonic.net account holders (including mailbox accounts) can send faxes using the Member Tools at https://members.sonic.net/labs/fax/.
What kind of files can I send?
Currently the send a fax tool only supports .txt and .pdf files. Most applications can easily print or export to pdf.
Can I send faxes to international destinations?
Generally, no. Faxes can only be sent to destinations in North America as well as some U.S. Territories.
How can I tell if a fax was delivered successfully?
If you supply an email address when you submit the fax, we'll send a delivery disposition notification whether the fax is successful or not. You can also see the fax's status by clicking on the 'View Sent Faxes' link in the tools.
Is there a log of faxes that I've sent in the past?
If you are logged in as a full account, yes, just click on the 'Fax History' link at the bottom of the Send a Fax tool. You'll see a complete history of all faxes you've sent in the past including the status of any faxes that are currently being processed. At this time, mailbox accounts can't view their fax histories. Faxes they send, however, will show up in the full account's history.
How many faxes can I send?
We're not sure yet. We'll tell you if we think you are sending too many.
What is the fax CSID/Header set to?
The CSID and Header will be set to the 'From Fax Number' and 'Cover letter "From"' (even if the cover letter isn't included, the defaults displayed there will be used.)