What is eero?
Eero is a wireless mesh system for improving both the range and performance of wireless networks. This can be of great assistance in situations where the size, physical layout, and/or construction materials used in the residence are causing impediments to the normal wireless network generated by a single router.
Feature Comparison
eero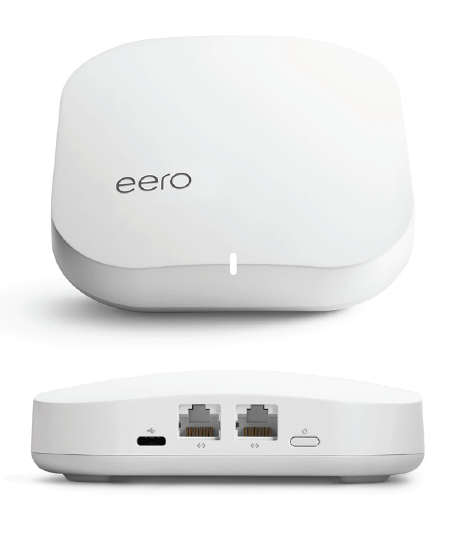 Ideal for: Starting an eero network,adding/replacing an eero, extending ethernet access
Supported devices: 120+
Key features: Has two gigabit Ethernet ports, Triband (50% better hop performance compared to Gen 1), USB-C power adapter
eero Beacon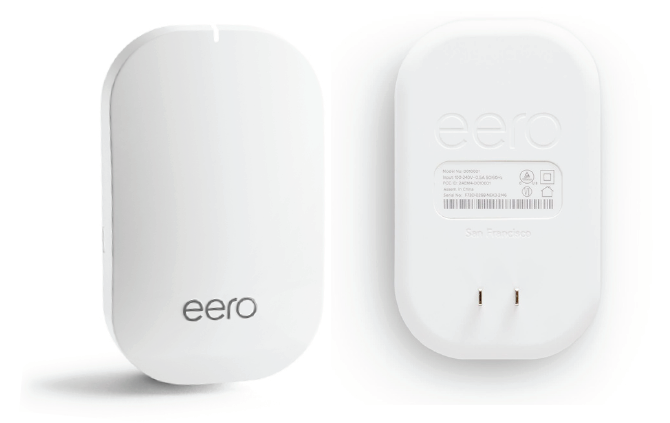 Ideal for: Adding onto an existing network and areas where wires are not convenient.
Supported devices: 120+
Key features: *Compact size with great performance, built-in plug (no wires!), built-in nightlight.
Limitations: No Ethernet ports (can't be used as an eero gateway).
Please note that the eero Beacons cannot be used without an eero unit acting as a gateway.
Specifications
| | | |
| --- | --- | --- |
| eero |   | eero Beacon |
| 4.76" x 4.76" x 1.26" | Dimensions | 4.76" x 2.91" x 1.18" |
| Tri-band (2.4/5.2/5.8GHz) | Radios | Dual-band (2.4/5GHz) |
| 802.11 a/b/g/n/ac | Wireless Connectivity | 802.11 a/b/g/n/ac |
| 2 dual sensing gigabit Ethernet Ports | Wired Connectivity | none |
| 700 MHz quad-core processor | Processor | 700 MHz quad-core processor |
| USB-C power plug | Power | Built-in power plug |
| none | Nightlight | Built-in with automated dimming |
Mobile App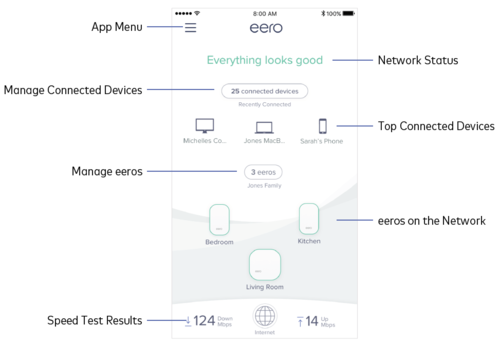 The eero mobile app is available on iOS and Android. Every eero user will need to have the eero app installed on an iOS/Android device with Bluetooth capability and active cellular data service so they can create, manage, troubleshoot, and edit their eero network; if you are not amenable towards using an iOS/Android device for network management, this is not the product for you. The eero app is free to download on the iPhone App store and the Google Play store.
eero currently supports both Android and iOS. Your device must also support BLE, so Bluetooth hardware versions earlier than 4.0 aren't supported.
iOS requirements:
Device running iOS 9.3 or later To access the eero app from an iPad, search for eero from the App Store and toggle the search to iPhone Apps
Android requirements:
Device running Android 5.0 or later (tablets included)
In addition to the above requirements, you'll need a data connection on your device to set up your eero network. Once you're set up, you can manage your network over an Internet connection. 
Why is a data connection necessary for setting up my eero network?
When you are creating an eero network, we recommend using a device that has a data connection. This is because at a certain point during setup, you will briefly not have any WiFi as you will need to swap out your existing router for your eero. In order for your new eero to register and bring your network online, your mobile device will need an available connection to the internet.
How do I set up my eeros if I don't have cell data service?
If you don't have cell data service where you live, please take the following extra steps when setting up your eeros:
Rather than plugging your gateway eero into your modem, plug it into your existing router during setup (This is called 'double NATing' your network). This way you can use your current wifi network to complete the setup and switch over to your eero network once setup is complete.

If you have a standalone modem and router, you can remove the router once your eero network is up and running. Simply unplug the eero from your router, power cycle your modem, and then plug your eero directly into the modem. When power cycling your modem, please be sure to wait until your modem is fully powered back on before plugging your eero into it. Depending on the modem, this may take up to 3-5 minutes. After you plug your eero into your modem, you'll no longer need your old router.

If you have a modem/router combo device, you can put that device in bridge mode for optimal network performance.
eero Plus
eero Plus is a premium subscription service operated by eero, and as such is outside the scope of this support document. Questions about this service should be directed towards eero.
Terminology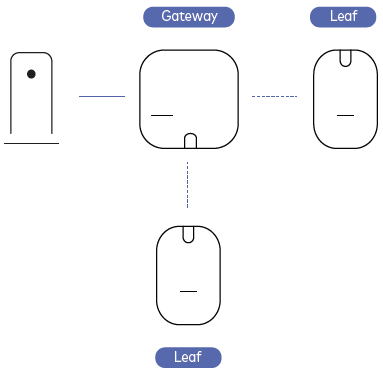 Node: Each eero device counts as a node, whether it is a gateway or a leaf.
Gateway: The gateway is the primary eero on the network. In a typical eero network, it will be the eero that is connected to your modem via Ethernet. The eero gateway is intended to replace any existing router functionality in a home network, meaning you will want to either bypass your existing router entirely and connect the eero gateway directly to the modem, or in the case of a modem/router combo will want to disable wireless and bridge the device entirely (or set up a LAN sub-port), both of which mean that the eero unit is literally acting as the gateway for your WAN connection.
Note that the eero can also be configured to act as a bridged wireless access point for a routers existing LAN network; this will negate use of some advanced features, but the eero will still be accessible via the app and most of the standard network management features will work fine.
Leaf: A leaf is any additional eero on the network after the gateway eero. This can be an eero or eero Beacon, and can be connected to the network over WiFi or Ethernet.
While Sonic will assist with basic troubleshooting and configuration of eero devices, full support will be provided by eero themselves.
Setup
Creating an eero account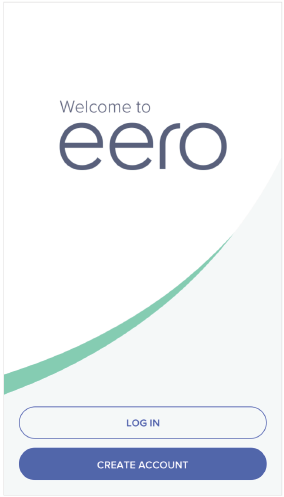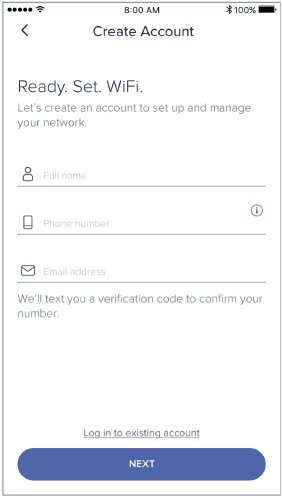 When you first open the eero app, you will be prompted to Log In or to Create Account. Most customers will be choosing to create an account.
Creating an account will require the following information:
Full name
Phone number
Email address
If you are logging into an existing account, you will use your phone number or email address to receive a verification code. Please note that this information is required by eero in order to use the service; Sonic has no control over this.
Verifying account
Once an account has been created, you will need to verify your contact information by entering the code sent to your phone number or email address.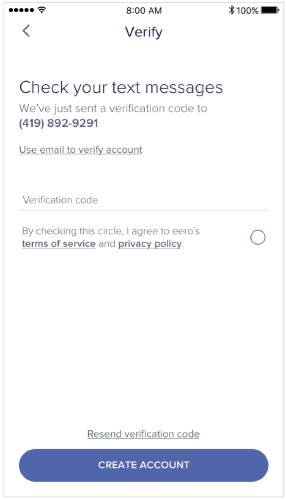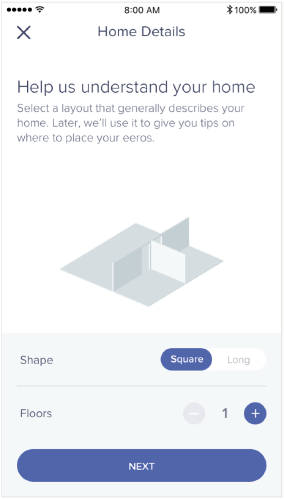 Going through the home builder
To provide the best possible setup experience, the eero app will ask for a few more details about the home, including its shape (square, L-shape, rhombus, tesseract, etc.) and the number of floors. This will help in making suggestions for where the remaining eeros should be placed.
Connecting Gateway eero
Every eero network will start with one eero connected directly to a modem or bridged modem/router that is connected to an upstream internet connection. This eero is known as the Gateway, because in most configurations it is literally acting as a residential gateway.
Steps to connecting eero
Ensure the modem and eero are unplugged from power.
Connect the eero to the modem via Ethernet.
Plug the modem and eero into power.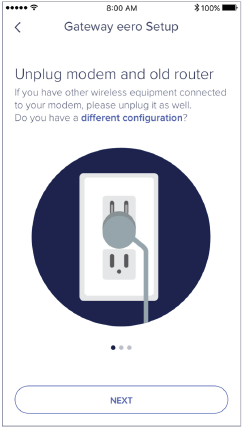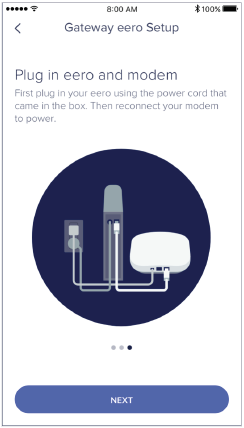 In most cases, the gateway eero topology will look similar to this: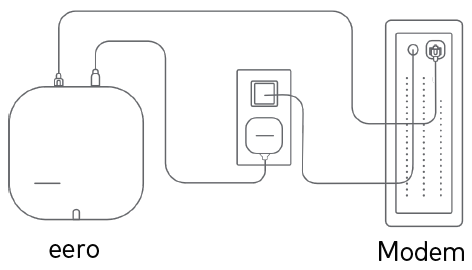 Looking for and registering eero
Once an eero has been connected to a modem, the LED will go through the following states:

1. Powering on: Solid white LED for roughly 5 seconds.

2. Booting up: The eero's LED will blink white.

3. Ready to be found: The eero's LED will blink blue.
Once the eero begins to blink blue, you should tap NEXT to start the process of locating the eero. At this point, it is necessary that the phone being used to create the network has Bluetooth toggled on (this should automatically be activated by the app).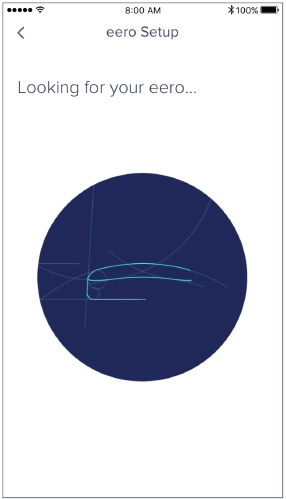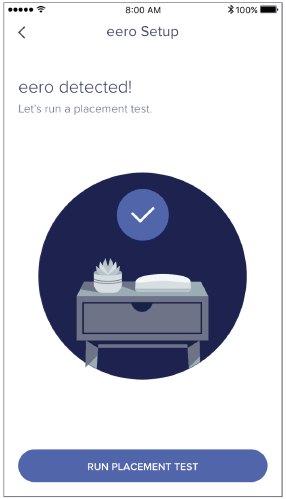 Choosing a location
Once an eero has been detected, you will need to name that location. In the app, there are various preset names, as well as the option to add a custom name.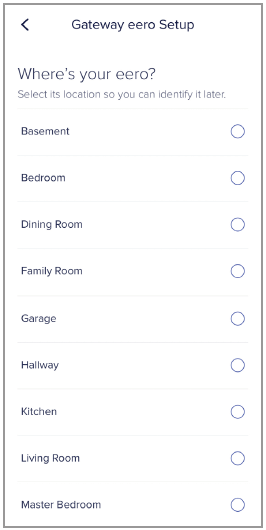 Choosing a network name and password
After a location has been selected, you will need to assign a network name and password.
Pro tip: If you are coming from a previously established wifi network (e.g., from your old modem/router), it is recommended to set up the eero to use the same network name (SSID) and password as before, thus allowing all of your devices on the previous network to connect to the new one without any further configuration needed for those specific devices (you may need to manually re-select the network on each given device). Just ensure the old router is powered off after the eero has been configured or you may find yourself connecting to the incorrect wifi network.
Registration and - SUCCESS
The final step in creating a network is for the eero to register. This will all be handled by the app and should take only a couple of minutes. Once complete, you will be notified that the network has been created.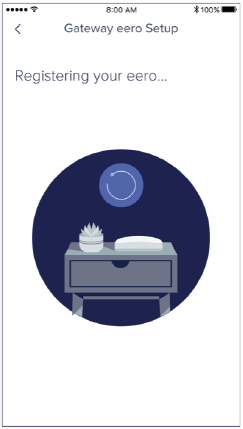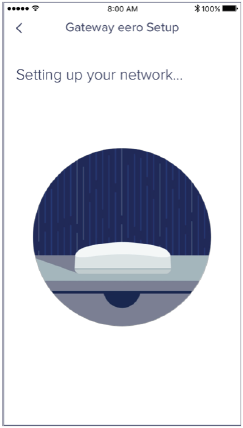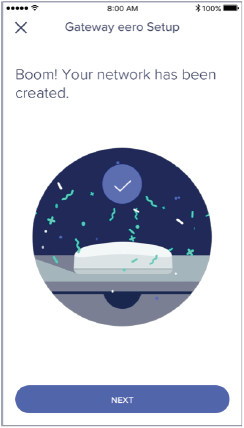 Please note that once your eero setup is complete, Sonic recommends disabling any wireless network that might be set up on your existing modem/router. For assistance with this, please contact Sonic support.
Adding an eero to your network
Once the gateway has been configured and is working, it is a simple matter to add additional eeros to the mesh network at any time using the eero app.
Adding a new eero unit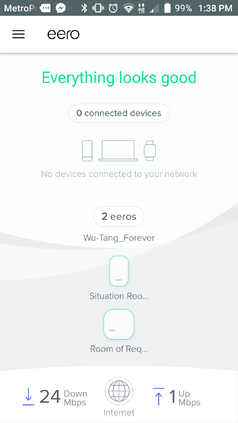 From the main eero status page, tap the "View eeros" button above the network name (currently showing as 1 single eero on the network).
Select type of eero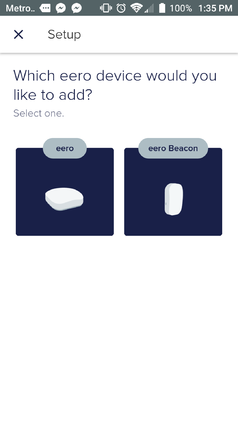 You will be prompted for which type of eero you would like to add.
Detecting new eero unit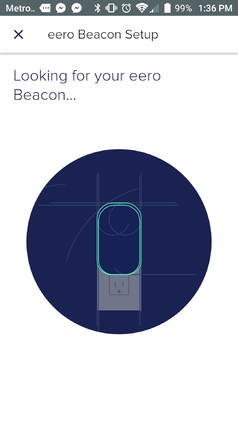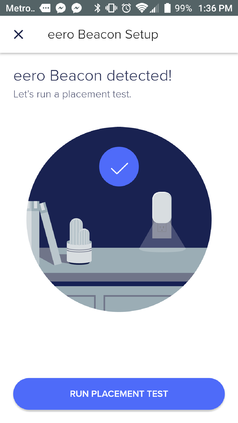 The app will then detect the presence of a new eero unit.
Placement and confirmation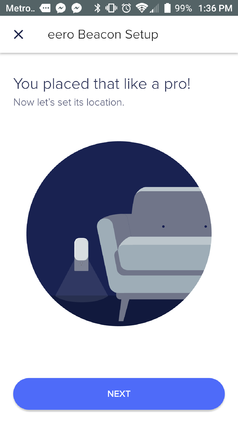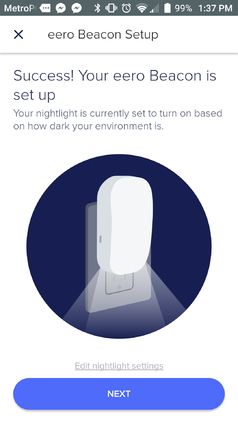 Once the device has been detected, the app will test the placement and confirm new eero has been added to the network. If eero detects a possible issue with the placement of the device, it will inform you.
SUCCESS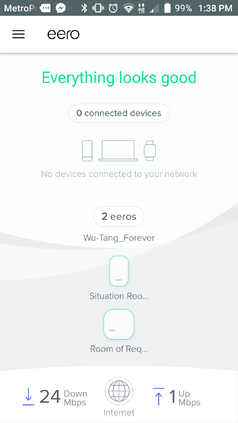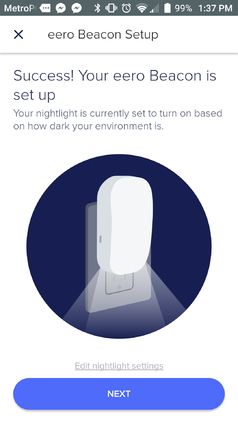 The eero status screen will now show 2 eeros!
Network Settings
From the Network Settings screen, you will be able to see all current network configurations, and make direct changes to them as desired.
Below is a walk-through of navigating this page.
Network Settings Page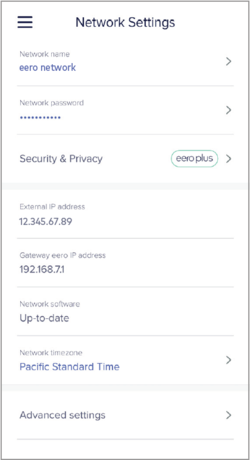 Network name
This is the SSID (name) of your network. You can change it by tapping through.
Network Password
This is the password for your network. You can change it by tapping through.
Security & Privacy
From here, you can sign up for eero Plus. If eero Plus is enabled on the network, you can tap through to turn on the network-wide security settings such as Advanced Security and Ad-Blocking. Once again, eero Plus is outside the scope of this support document and questions regarding it should be directed towards eero.
External IP address
This is the gateway eero's WAN IP address.
Gateway eero IP address
This is the gateway eero's LAN IP address.
Network software
From here, you can see if your network software is up-to-date or if there is an update available.
Up-to-date: The eero network has the most recent version of the eero OS
Update available: The eero network can be updated by a user-initiated update (or automagically overnight).
Network timezone
The timezone that the network is using for all user settings, including Family Profiles.
Advanced settings
Various advanced settings to customize the network experience (see next section).
Advanced Settings
If you would like to further customize your eero network, you can do so through the Advanced Settings screen. Note that a bridged eero system will not have these options available.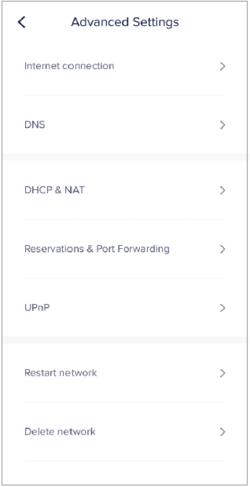 Internet connection
From here, the user can configure their internet connection type:
IP (default): The IP address, subnet mask, and router IP address will all be set by the ISP.
Static IP: The IP address, subnet mask, and router IP address are selected by the user.
DNS
This is where the Domain Name Servers (DNS) can be configured and are used for translating domain names, such as Sonic.com, into IP addresses so they can be reached. You can either use the one distributed by Sonic or choose a custom one. When eero Plus is enabled, you will not be able to change your DNS as the eero Plus system needs to use eero Plus's specific hardcoded DNS information.
DHCP & NAT
This is how the network assigns the IP addresses for your connected devices on the LAN. The user has three options:
1. Automatic (recommended): eero automatically chooses the best settings for the network.
2. Custom: You can set a custom IP address range for your network. This is typically for more complex set-ups; if you're unsure as to how this setting would benefit your network, then it's very likely not necessary. You will need to fully configure the following settings:

IP Address Prefix: Choose between three IP address prefixes: 192.168.0.0; 10.0.0.0; 172.16.00
Lease Range: Once a prefix has been set, you will need to set each of the following:

Subnet IP: This is the range from which client IP addresses should be allocated
Subnet mask: Separates IP addresses into network and client portions.
Starting IP: The first IP address in the range
Ending IP: The last IP in the range.

3. Bridge: In bridge mode, the upstream router will provide all the network settings. While eero routers will continue to work as a mesh and you will still be able to use the app to administer the network, some advanced features will not be available in bridged mode.
Reservations & Port Forwarding
You can use IP reservations to allow them to keep the same IP address for a particular device. This means the device will always have the same IP address.
You also have the option to set up fort forwards, which is helpful when a device or application requires direct connections to other devices or services on the internet. Please note that these services are UNSUPPORTED by Sonic and are included in this documentation for reference purposes only.
To create an IP Reservation:
Tap on Add a reservation
Select a device from the list (ex: Craig's iPhone)
Tap on the IP address and edit
Tap save in the upper right corner
To create a Port Forward: Once an IP reservation has been created, you can set a port forward.
Tap on Add a reservation
Select a device from the list (ex: Craig's iPhone)
Tap on Open a port
Name the port
Use the external/internal ports as assigned by the manufacturer (you may already have ports of your own they would like to utilize)
Select the protocol provided by the manufacturer
Tap Save in the upper right corner
UPnP
Universal Plug and Play (UPnP) is a way to allow devices like game consoles and media centers to open ports to the internet automagically. This can be enabled/disabled by switching the toggle to On or Off, respectively.
Restart and Delete network
If you would like to restart your network (for example, when troubleshooting slow performance), you can do so through the app as long as you have an active internet connection.
If you would like to delete their entire network, including all settings and remove all eeros from their network, you can do so by following the network deletion steps.
Hard/Soft Reset
You can perform a hard or soft reset by pressing and holding the reset button on an eero for a certain length of time. The eero Beacon reset button can be found on the left side and the same instructions below apply. Before resetting an eero, make sure it has been powered on for at least 45 seconds.
Soft reset
A soft reset will clear all network configurations from the eero, but preserve its sessions. This keeps the eero on the network and saves its logs and advanced settings such as IP reservations and port forwarding configurations. To soft reset an eero, hold the reset button until its LED flashes yellow (7 seconds), then release it.
Hard Reset
A hard reset will clear all network configurations, clear its session and logs, and remove the eero from the network. If the eero has an active internet connection, you can achieve the same results by removing the eero from the network via the eero app.
Performing a hard reset on a gateway eero (the one connected to the modem or Optical Network Terminal) will remove the entire network and all settings for that network. If you only need to ard reset one eero, we recommend swapping out the gateway for another eero if possible. By extension, if all eero devices are factory reset including the gateway eero, this will also remove the entire network and all settings for that network.
Note: If you need to transfer an eero unit from one eero network to a different one, hard-resetting that specific unit will facilitate this. Once it has been hard-reset, you can then follow the procedure for adding a new eero unit to an existing network.
  To hard reset an eero, hold the reset button until the LED flashes red (15 seconds), then release it.
Frequently Asked Questions
LED states
Every eero and eero Beacon has an LED light (however, only the Beacon has a nightlight). Depending on the current status of the eero, it will show one of the following LED states:

No Light: eero doesn't have power (or eero LED is turned off via app)

Blinking White: eero software starting up/connecting to the internet

Blinking Blue: Broadcasting Bluetooth

Solid Blue: The eero app is connected to your eero and setting it up

Blinking Green: Multiple eeros detected during setup

Blinking Yellow: Soft reset OR unapproved USB-C power source used

Solid White: eero connected to the internet

Solid Red: eero is not connected to the internet

Blinking Red: Hard reset
eero 101
Below are answers to many frequently asked questions when it comes to using eero.
Can I use an eero Beacon as my gateway?
eero Beacons cannot be used as a gateway.
How many eeros can I have on a single network?
There is no limit to the number of eeros. However, more isn't always better. We generally recommend one eero for every 1,000 square feet but it varies case-by-case.
What speed is eero capable of?
eero's max rated transmit speeds are about 240Mbps at 2.4 GHz and about 600Mbps at 5 GHz. Over a wired connection, the max throughput locally is 1Gbps. Maximum wireless speeds are dependent on the capabilities of the client device as well as the amount of bandwidth being provided by the ISP.
Can I use eero Beacons with non-eero routers?
No, eero Beacons can only be used with other eeros. In order to add a Beacon to your network, it will need to be added through the eero app and connected to a gateway eero that is connected your upstream modem or device via Ethernet.
Will my connection be faster if I hardwire all of my eeros or if I use the wireless mesh network?
If you've got the right equipment, and you'd like to hardwire your eeros, you will typically get the fastest connection. Hardwiring your eeros means you won't lose any throughput because there aren't any wireless hops.
How much distance should there between eeros?
For the best experience, when wireless, eeros and eero Beacons should be no more than 50 feet away from at least one other eero.
Placement Tips
Best Practices for Optimal Placement
To get the best performance from the eeros on a network:
Place eeros where they can talk to each other
While it may seem correct to place eeros in dead zones, it is actually best to place eeros halfway between dead zones and other eeros on the network. This way, the eeros on a network are able to obtain strong connections to the network, thus covering more of a home with fast, reliable WiFi.
Places eeros on a hard, flat surface
eeros perform best when they are placed on a stable and flat surface, such as a table, countertop, or nightstand.
Places eero Beacons in wall outlets
While an eero Beacon can be placed in any available outlet, including powerstrips, they will provide the best performance when plugged directly into a wall outlet.
Keep eeros in open spaces
When placing an eero or eero Beacon, it is best keep them in open spaces. Avoid placing eeros in closed cabinets, behind heavy electronics, or under/behind any furniture.
Things to Avoid
The following can degrade performance and cause issues for your network:
Heavy metal objects
eeros shouldn't be placed near any heavy metal objects such as doors, refrigerators, laundry machines, and Megadeth albums. These objects can cause interference with wireless radios.
Avoid interference
eeros work best when they are 20-30 feet away from objects that cause interference. Avoid objects like microwaves, cordeless landline phones, and older coaxial cables from certain satellite dishes.
Smothering eeros
As mentioned above, eeros should always be placed out in the open. This includes placing anything on top of them. Also avoid having eeros enclosed in small spaces, such as cabinets, closets or behind couches.
Soft surfaces
Always strive to place eeros on a stable surface. Avoid chairs, cushions, and ottomans that don't allow the necessary space for an eero to breathe.
Setup Frequently Asked Questions
Does it matter which eero I start with?
It doesn't matter which eero is used to start creating the network, as long as it is an eero and not an eero Beacon.
Can I connect my eeros with an Ethernet cord?
Yes, you can connect your eeros with an Ethernet cord. However, since eero Beacons don't have any Ethernet ports, they can only be connected to a network wirelessly.
What if I need additional Ethernet ports?
If you need additional Ethernet ports for your connected devices, you can connect an Ethernet switch to your network. When adding an Ethernet switch, it should be connected directly to your eero, and not between your eero and modem.
Can I use a tablet to manage my network?
While the eero app is not currently formatted for tablet use, users will still have access to full functionality on their tablets.
Can multiple people manage an eero network?
At this time, there can only be one account used to manage an eero network. However, as many people as the admin wants can share access to the account. They will just need to provide a verification code that's sent to their phone and/or email.
Can I add a range extender to my eero network?
No; eeros can only mesh with other eeros and eero Beacons.
Troubleshooting
Gateway Setup Issues
Getting Started Before beginning, be sure to check:
The mobile app is up-to-date
The mobile device is able to communicate with the eero cloud, by ensuring:
The mobile device has cellular data turn on
The mobile device isn't connected to their modem or other networking device
The mobile device isn't connected to a local hot spot
The modem has been registered with ISP (if purchased from third-party retailer)
Troubleshooting Steps
Disconnect other devices from modem and power off the modem and eero
Use one Ethernet cable to connect an eero to the modem
Power on both the eero and the modem
Once both devices are fully booted, open the eero app and begin the setup flow
If the user runs into an error, have them try each of these steps and re-attempt setup:
Power cycle the modem with the eero connected
Hard reset the gateway (press & hold reset button until LED blinks red)
Try a different eero (if possible)
If the above steps don't resolve this issue, consider the following:
Make sure that the WAN connection cable isn't frayed, poorly terminated, or has questionable integrity, and that the eero is properly connected to modem (one Ethernet cable to a designated LAN port). If the cable checks out, connect an end-device like a laptop or desktop to the modem, power cycle the modem, and see if the internet is reachable.
General Network Issues
Leaf node offline
When an eero leaf node goes offline, you may see one of the following LED states:

Solid Red: eero is not connected to the internet.
If the leaf eero is wired to the gateway:
Check:
What the Ethernet cable is connected to
Ensure solid Ethernet connection
Disconnect/reconnect Ethernet cable from both ends if possible
Move the Ethernet cable to the other port on the eero
Try a new Ethernet cable
If none of the above work:"
Disconnect Ethernet cable and reboot eero (see if it can come up wirelessly)
Swap power adapters with a known good adapter from another eero
Did the problem follow the eero or stay in the same location?
If moving the eero moved the problem to the new location, it's likely a hardware issue.
If the newly-placed eero is showing a red LED, it is likely a cable/topology problem.
If the leaf eero is wireless:
Check placement
Swap eero location with another leaf node
Move the leaf eero closer to another eero on network
Swap leaf eero with gateway (if possible)
If the eero still doesn't connect, it may need to be replaced.

Solid white: eero connected to the internet
Perform a soft reset:
The eero should go solid white for a few seconds, then blinking white, and then solid white again.
If that fails, perform a hard reset:
If hard reset and eero LED goes solid white and stays solid white with no connection, please contact Sonic; we may need to further troubleshoot and potentially replace the device.

No Light: eero doesn't have power (or eero LED is turned off)
Ensure eero is plugged into power
Swap power adapters with a known good adapter
Plug eero into a different wall socket
Advanced Troubleshooting
As a courtesy, we have included some tips for trouble-shooting some of the advanced features included in the eero system. Please note that these features are outside the scope of what Sonic can support; problems with these configuration options should be directed to eero.
Device only supports 2.4GHz or needs a single band router
Even if a device only uses the 2.4GHz frequency, it should have no issue connecting to eero. However, sometimes adding these devices for the first time can present a challenge. In these scenarios, try (in this order):
Try removing all but one eero
Increase the distance between the device and the eero, forcing it to switch to 2.4GHz
Setup the old router with the network name/password as the eero network, then add back the eero network
Reboot the (1) device, (2) gateway eero
Try connecting the device to the guest network
Potential Issue: Device is experiencing slow speeds
If a device is experiencing slow speeds, take the following into consideration:
What are the max bitrates the device is capable of?
What is the distance between the device and the eero?
What type of ethernet is being used (Cat5 vs. Cat5e/Cat6)?
Is the device connected to the old network?
What to look for during troubleshooting:
Is the device connected to the eero network?
Is it connected to the 2.4GHz or 5GHz frequency?
Which eero is it connected to?
How close is it to the eero? Are there obstructions?
If the issue continues:
Powercycle device, network, and/or modem
Check to see if an update is available (OS/driver/etc) for the eero network and/or device
Potential Issue: Devices falling offline
If a device is continuing to fall off the network, take the following into consideration:
Is there wireless congestion on the network?
Is the device failing to roam?
Is the device losing its IP address?
Where is the eero placed in the home, and where is the device in relation to it?
Is the device connected to the old network?
If the issue continues:
Toggle the device's wifi off/on
Set an IP reservation for the device
Have the device forget the network and rejoin
Check to see if an update is available (OS/driver/etc) for the eero network and/or device
Reboot the network
Soft reset the network
Contact eero
Potential Issue: Trouble with Port Forwarding
If you are experiencing any issues with a port forward you have created, first check:
Is the affected client device currently connected to the eero network?
Are all the eeros on the latest firmware version (check by tapping on each individual eero)?
Has it worked in the past? Has anything changed?
Is the affected client device behind a double NAT network?
Does the device have an IP address? Does it match the reserved IP?
Is the device paused via Family Profiles or has it been blocked?
If the issue continues:
Try navigating to "IP__address:port_number" in a web browser (ex: 192.168.7.20:80) to see if the service is working locally
If this fails, something is not configured properly on the device
Change the external port by adding increments of one (ex:80 → 81)
Soft reset the gateway eero
Reboot the gateway eero and client device
Potential Issue: Devices can't see each other
If client devices are unable to see each other (ex: computer and printer), first check:
Are the two devices connected to the same network?
If they are, is one connected to another router using the same network name/password?
If the issue continues:
Have the devices forget the network and rejoin
Try connecting the two devices via ethernet (if possible)
Check troubleshooting steps from the manufacturer