What is Graymail?
Graymail is a tool which intercepts all mail SpamAssassin marks as spam before it is delivered to your inbox. All mail caught by Graymail is stored on our server for 7 days, during which time you can review them at https://members.sonic.net/email/graymail/. Graymail sends a nightly report of all messages it has intercepted to your inbox.
If you see that a message has been improperly intercepted, you can use our convenient web interface to Welcomelist the sender and deliver the captured message to your inbox. Check out our Graymail article for instructions on how to check your messages and customize settings.
Why is it called Graymail?
When we're 100% sure a email is spam, we delete it automatically. When we know an email isn't spam, we deliver it right to your inbox. When we think an email is spam, but we're not absolutely certain, it goes into Graymail. It's called Graymail to reflect the ambiguity in whether the message is spam or not.
When a message is marked as potential spam, it is delivered to your Graymail folder. This allows you to keep an eye on all e-mails that are coming in, while still being able to keep spam out of your inbox. Graymail can be accessed by logging into https://members.sonic.net/ and by navigating to Email > Graymail (Trapped Spam).
You can modify graymail settings in Email > Spam Filtering > General Configuration. SpamAssassin, Welcomelisting and Blocklisting are all tools that help determine what e-mails get put into Graymail.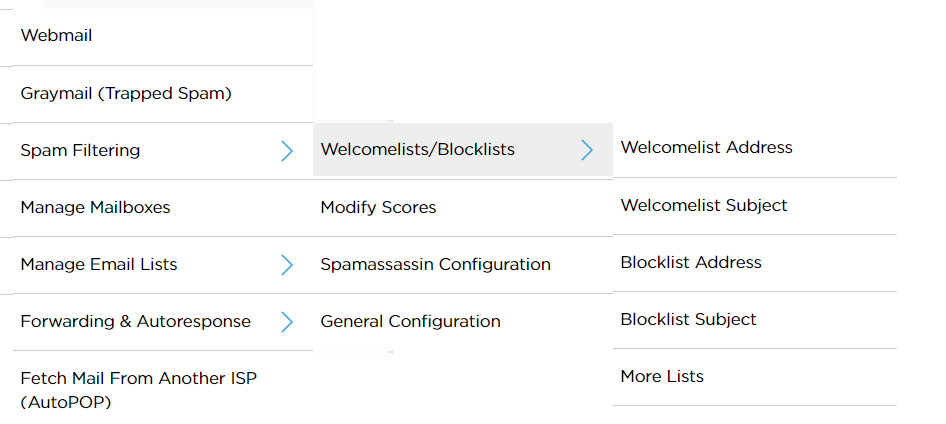 Graymail (Trapped Spam)
Your Graymail box looks a lot like a traditional webmail client. You'll see the subject, sender, date, the SpamAssassin score and the size of the e-mail. Click on an e-mail to preview the content of the message.
You will also see three symbols to the right of the e-mail list that delete the message from graymail, deliver the message to your inbox or deliver the message to your inbox and Welcomelist the sender. There are also buttons at the top and bottom to mark all e-mails as any of the three. When your selection is complete, hit Submit.

General Configuration
The Graymail section under General Configuration has five quick settings that can be changed for your Graymail.
The first option determines whether messages marked as spam are sent to Graymail (default) or directly to your inbox.
The second option allows the option to discard any e-mails that hit the e-mail's Blocklist. The default behavior is that Blocklisted items get +100 to their SpamAssassin score and will show up in Graymail.
By default, if there are any Graymail messages on your account, you will get a nightly report. This can be disabled so that you are not notified of Graymail messages.
You can change whether the Graymail notifications are HTML or plain-text. They are HTML by default.
This setting allows you to determine when Graymail messages are deleted. The default is after 7 days or after there are 1,000 messages. You can adjust this to be anywhere from 1-14 days and 25-2,000 messages.
Don't forget to save any pending changes before leaving the page. If needed, there is also a button to restore all settings to their defaults.
Email in Graymail report does not show up in Graymail folder
There are a couple reasons that this may happen.
First, you want to make sure they are actually looking at the right mail account. Towards the top of the screen, there is a line that says 'Logged in as:' to prevent any confusion.
The message may not be listed because there are too many messages to fit on one screen. If you have more than 10 messages in your Graymail folder, the messages may be split up over multiple pages. Use the Navigation text below the messages to move between pages.

You can choose to display up to 100 messages on the page at a time. You can also sort messages by subject, sender, size, score, and date, by clicking on the column label at the top of the message list.
Email delivered from Graymail does not show up in inbox
We have yet to see a case where Graymail has deleted a message marked for delivery. In every case we have seen, the message either wasn't actually delivered due to the "submit" button not being hit, or it was filtered on the client side. If the message is no longer in Graymail, and you do not have any filters in your mail client, get as much information about the missing messages as you can ( subject, sender, date, SSN ), and send the details to support@sonic.net
Time delay in delivery to/from Graymail
Spam is delivered to the Graymail folder in the same amount of time a non-spam message would take to get to your normal mail. Like all mail, a message may not appear instantly in the Graymail folder after being sent. However, if it shows up in the nightly report, it will be in Graymail unless you have deleted it since then.
Delivery from Graymail to your normal mail should be immediate. It may be necessary to explicitly tell your mail program to check its mail again after clicking "submit" in Graymail.
How do I change Graymail's storage behavior?
In the spam filtering general configuration interface at https://members.sonic.net/email/spam/filtering/, the section titled "Graymail Configuration" will allow you to turn Graymail on and off, select whether or not to receive a nightly notification of new messages in Graymail, and to configure for how long and how many messages are kept for you.