Getting Exactly 10Mbps/100Mbps
If you are only getting exactly 10mbps, or exactly 100mbps down via ethernet on gigabit fiber, checking the configuration on your computers network adapter is a good start.
Checking network adapter configuration
Windows

Control Panel > Network and Sharing Center > Change adapter settings
Double-click on the appropriate Local Area Connection to bring up a new window showing the status.
The speed of the network will be listed in the Connection section.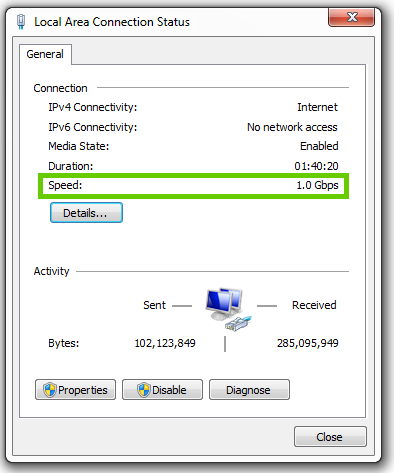 Apple
Browse to Applications > Utilities > Network Utility
On the Info tab, link speed will be displayed.
Ensure in the dropdown menu that the statistics for the appropriate network interface are being displayed.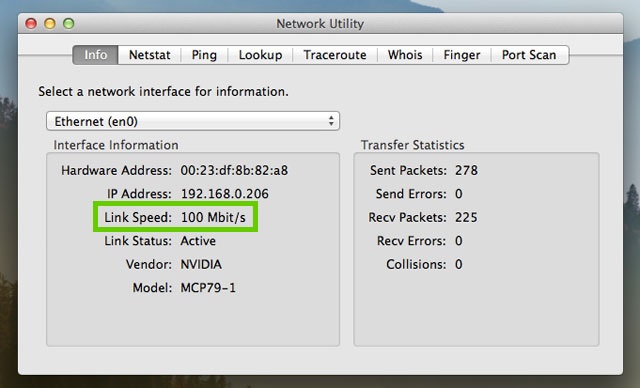 Be sure that the device is plugged directly into the Sonic provided RG and not a third-party switch or hub.
Attempt to set the speed on the port manually to 1Gb/s. If you lose physical connectivity after doing so, this indicates incompatible hardware, a hardware negotiation issue, or a potential cable issue.
Hard setting the link speed
If you are sure that the Ethernet adapter support 1Gb/s speeds, you can force the device to negotiate at 1Gb/s.
Windows
Go to Control Panel > Network and Sharing Center > Change adapter settings
Right click on the appropriate Local Area Connection and click Properties.
Click Configure.
Go to the Link Speed tab, and in the Speed and Duplex section, select 1.0Gbps full duplex, and click okay.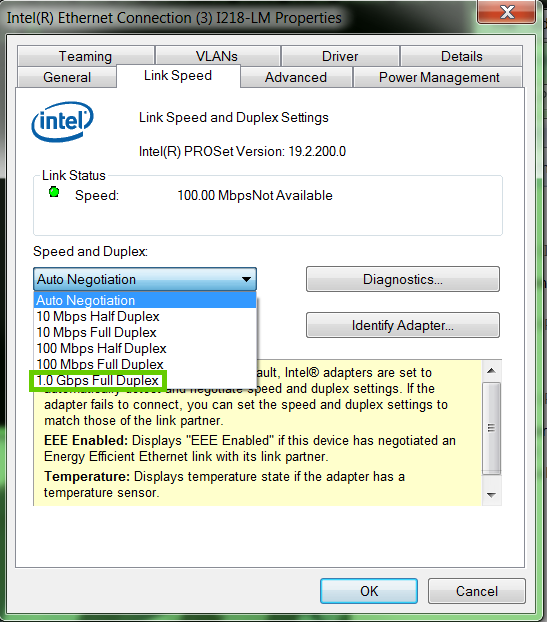 Apple
Apple > System Preferences > Network
In Network Connections, select Ethernet
Click Advanced > Hardware > Configure then choose Manually.
In the Speed menu choose 1000baseT.
Check to make sure Duplex is set to full-duplex, and MTU is set to standard (1500).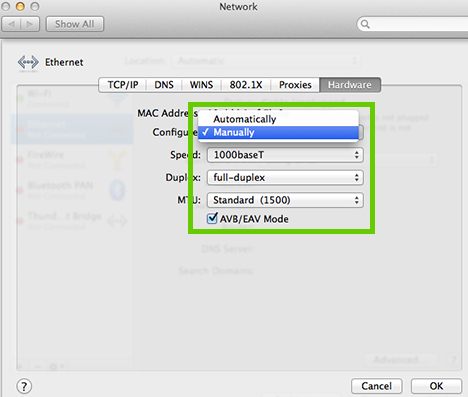 Ethernet Cable Speeds
Customers with old cat5 cable will only be able to transmit 100Mb/s over the link. If you have already checked the link speed and found that the hardware should support gigabit speeds, check the cable. Printed on the cable itself will be the specifications, including category type. Below is a picture of the cable that comes with all Pace 5268AC modem kits.
UTP Speeds
| | | |
| --- | --- | --- |
| Standard | Max Supported Speed | Notes |
| Cat3 | 10Mbps | Mainly used for telephone cable |
| Cat4 | 16Mbps Token Ring | Rarely (if ever) used. |
| Cat5 | 100Mbps |   |
| Cat5e | 1Gbps | Standard with all Pace 5268s |
| Cat6 | 10Gbps |   |
| Cat6a | 10Gbps | Now with shielding! |
Damaged or Defective Cable
Cables with broken pins or damaged wire may not receive the full throughput. It's always worthwhile to try a different Ethernet cable as part of troubleshooting!
Check for switches or routers between the ONT and the Pace 5268AC that may potentially be limiting speeds.
3rd party equipment may either be not capable of supporting full Gigabit speeds, or may be not be correctly configured to transmit/receive at the appropriate rate. If you're unsure of how to double-check the configuration of your 3rd party device, try removing it from the signal chain entirely to see if speeds return to expected values.
Other slow speed issues
If you are getting slower-than-expected fiber speeds over internet but it is not exactly 10Mbps or 100Mbps, here are some other troubleshooting options:
Client CPU. Check the resource monitor on Windows or the Activity Monitor on a Mac to see if CPU usage is maxing out at 100% during the speedtest.
Browser. Some browsers are also able to better utilize the CPU, and others will use more processing resources for background tasks. Make sure you've closed all tabs and windows except the one you're speedtesting in. Make sure your browser is up to date, and try an alternate browser.
Latest version of Flash. Ookla speedtest runs on Flash, so make sure it's up to date!
Network card. Many people report the built-in network card on their computer to be a limiting factor with speed, so if possible, please try an alternate computer with a different hardware model!
You can fully take advantage of a gig even if your device can't
Your connection to your home is shared. Even if a specific device isn't capable of getting the full speeds, your gigabit connection allows up to 40 devices in your home to stream Netflix in 4k! And none of those devices need to speedtest at a gig.