Colocation Tools Overview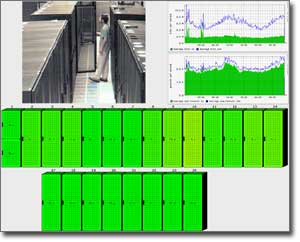 Sonic.net is on the leading edge of colocation services. We offer a stable network environment and state-of-the-art data center plus unique tools for customers to manage and maintain their services. Sonic.net has developed a Colocation Web Tools package for colocation customers which allows for unprecedented management and security of their colocated systems. Through our Colocation Web Tools interface you have access to:
Temperature monitoring
Host monitoring
SMTP, HTTP, ping and more
Email alerts to administrators and pagers
Real time video of cabinets
Access to video logs of cabinet
Real time video of cabinet
Email notification when cabinet is accessed
Cabinet door event history
A history of door events (when doors were opened and closed)
Archived video of door events
Security port scanning of servers
Basic port scanning of colocation IP addresses (limited to customers IP's only)
Advanced port scanning with a report of suspected security risks
Full log of port scan findings emailed to administrator
Web based ticketing and tech support
Open tickets/work orders via the web
Temperature Monitoring
Sonic.net includes a temperature probe in each cabinet section. This allows for real time temperature information through the Sonic.net Colo Tools suite.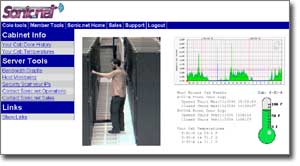 Host Monitoring
Host monitoring allows a customer to configure monitoring groups for colocated servers and equipment. HTTP, SMTP, SSH, ping and other services can be monitored and alerts emailed to an administrator(s) or pager. A web based configuration tool allows you to manage hosts, host groups and the services you wish to monitor.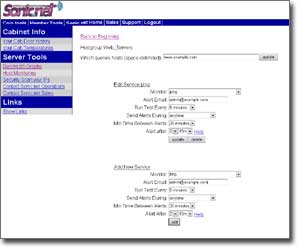 Video Surveillance
Sonic.net's video surveillance is designed provides full data center video recording, monitoring, and cabinet viewing. Each customer is provided with pictures and videos of their cabinet in real time as well as archived video of significant events. Each time a cabinet is accessed, video is stored for the owner to review if necessary. The archives are available on a per cabinet and per door (front or back) basis. Additionally, a snapshot can be sent immediately to an administrative email address. This unique security system of our data center is one of the many features of Sonic.net that set us apart from other data center facilities.
Note: email notification is only available for clients with private cabinets. 1U servers are hosted in shared rackspace that are accessible to Sonic.net staff only.
Access History
Through the Colocation Web Tools you can access then cabinet event log which show a history of door access. You can see a log of which doors were opened and closed and at what time. This linked with the archived video surveillance adds not just enhanced security, but accountability for your company.
Security Port Scanning
Sonic.net is committed to the security of its customers. This not only includes physical security, but network security as well. In order to help customers maintain secure systems, Sonic.net has built a port scanning interface to allow customers to verify that their systems and services are not using software with known bugs and exploits.
The simple port scan feature will determine which TCP and UDP ports are open. The Nessus-based advanced scanning features will probe the services (HTTP, SMTP, etc) and determine what software versions of the different service are currently running. Using this information, the tools will check against known exploits and bugs to provide a detailed log of your systems possible vulnerabilities. Once completed, a report is emailed to you and can be used to upgrade systems that may need securing.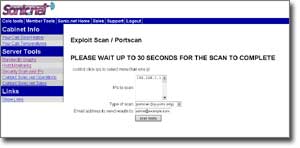 Web Based Ticketing and Support
Through the Colocation Web Tools, customers can open tickets with the NOC for various routine tasks. These tickets carry a high priority and are useful for ordering additional services, cross-connects, Remote Hand Service and requesting information as conveniently as possible. The NOC is also available via telephone for immediate needs.