What is an SPF Record?
An SPF record tells other email providers who is permitted to send mail on behalf of your domain and who is not.
An SPF record is a TXT record that is part of a domain's DNS zone file. The TXT record specifies a list of authorized host names/IP addresses that mail can originate from for a given domain name.
This is only applicable if you own your own domain.

My emails are being rejected when I send from my domain!
At this time, we would advise setting up an SPF record on your domain in order to address the rejection from hosts such as Gmail, Yahoo, Live, etc.
The lack of SPF means that Gmail (as well as other providers) don't know if Sonic is, or is not authorized to send mail for @yourdomain.com.
As a result they may treat messages as more suspicious because it doesn't know if we are impersonating you, or authorized to send mail for you.
SPF has been around for quite some time but it seems clear that mail providers in general have recently begun putting more weight on it.
Proposed Fix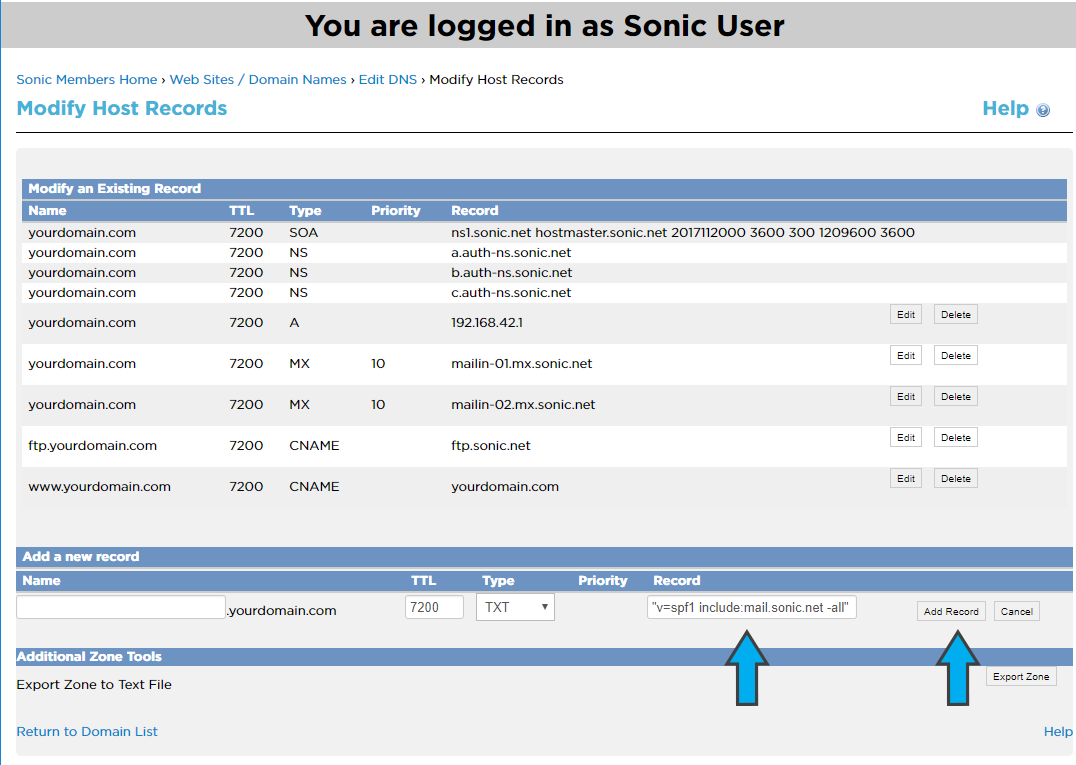 We suggest at least the following for SPF:
"v=spf1 include:mail.sonic.net -all"
Before adding it, please check with your domain administrator or webmaster. If email is sent from your domain from anywhere else in addition to Sonic, it is very important that the record also include those addresses or hosts. Failure to include all possible sources of mail may lead to further delivery issues.
Once the SPF record is added, please let us know if the delivery issues to providers continue. In the past, this has fixed delivery issues similar to this for legitimate mail.
How do I get there?
You can use the link below and then click the host records you wish to change.
https://members.sonic.net/websites/nameservers/host_records/