At Sonic we want you to get the great service you deserve. We are committed to ensuring you have a pleasant and enjoyable experience while you are our customer! With that, we understand that things can change. We are here to help you if you would like to change, cancel or move your service.
Cancellation
We always hate to lose a customer for any reason, but we completely understand needing to cancel services and we want to make that process as easy as possible for everyone involved. There are two ways to go about cancelling your service.
1. You can cancel the service yourself by logging into your member tools portal https://members.sonic.net/account/cancellation/ and follow the prompts to cancel your service.
2. To cancel your service with help from customer service, you'll need to call us at (707)-522-1000 between 8am-10pm any day, email us at billing@sonic.com, or postal mail if needed. We can only cancel your service if you're name is listed on the account, so be sure that whoever is contacting us to cancel service is listed on the account. If you contact us by email, make sure that the email is sent from an email we have on file and to include your name/address so that we can find your account. Written requests must contain your username, the current date, your reason for cancellation, and the account holder's signature.

(a.) Transferring Your Telephone Number

If you have a telephone number that you want to transfer to another provider, then you'll want to wait until you have the new provider's service all installed, then let us know so we can start the number porting process. You will need to start this process with us prior to cancelling your account as we need to keep the number active in order to transfer it. On average, the number port takes around 7-10 business days to complete and we will notify you of the date/time the number is scheduled to transfer over as well as the completion notification via email.

(b.) Thirty Day Notice

Please note that on some of our services, we do require a thirty-day notice prior to your desired cancellation date, so be sure to contact us as soon as possible because you will be charged for the last thirty days of service. Typically, this is only necessary for customers with our IP Broadband services, however it's still nice to receive notice on other services so we can go over any details that may need to be addressed.

Returning Equipment

If you are renting Sonic provided equipment like one of our routers or analog telephone adapters, then after the cancellation is completed you will need to return the equipment to us. We offer printable shipping labels through UPS over e-mail.

If your service was required to have a 30-day notice (see above) the labels will be sent to your e-mail at the end of the 30 days. The same goes for a normal cancellation, labels will be sent after the cancellation process is complete.

If you don't have a printer to print out the label, the e-mailed UPS label comes with a QR Code that can be scanned off your smart phone by a UPS employee.

Once shipping labels are sent you have 30 days to return equipment before being charged for non-returned equipment. If you have any problems with your return labels do not delay and contact us at (707)-522-1000 between 8am-10pm.

Change Service

Need more bandwidth than you did last year? Maybe your current service more than you need? If you would like to upgrade or downgrade your service, you may give us a call at 1-888-766-4233 or you can also place the upgrade or downgrade through the Sonic Member Tools. Once Logged in, you can navigate to Internet Connections > Upgrade or Downgrade Service.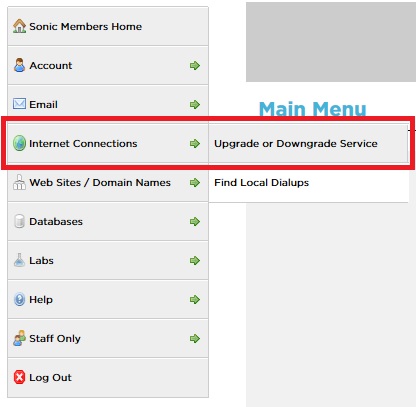 Moving Service
Moving can be stressful and complicated! Let us make it easier on you! If you would like to relocate your service, please give us a call at (707)-522-1000 between 8am-10pm any day! You can now place a move order through the member tools website as well! Simply log into your member tools portal Move Service and click on [Internet connections] then [Move your service] as shown here: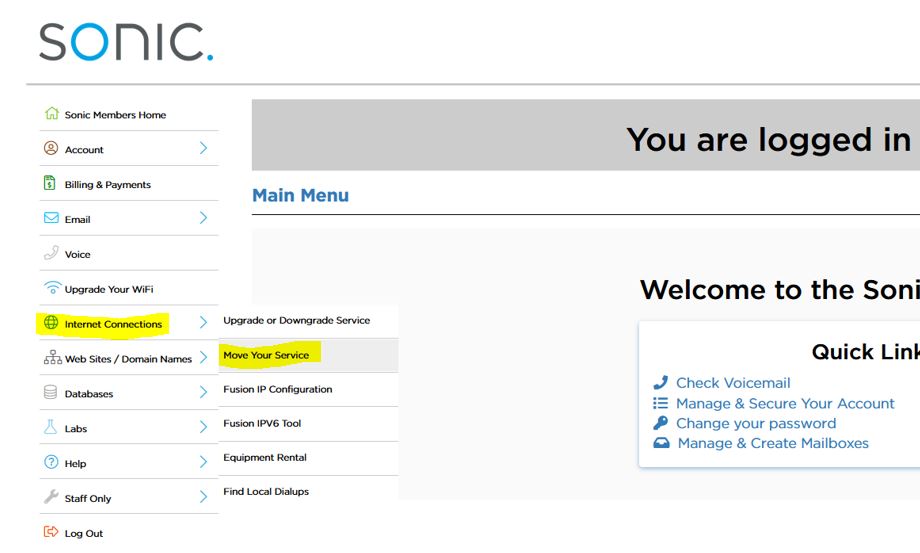 Once you do that, follow the prompts to include your new address, date you would like to move and we'll check for the available services at your new location. Select that new service at the new address and submit and you are all set!