How do I check my email?
Sonic Webmail is located at https://webmail.sonic.net. Your email address is the username you picked when signing up for services followed by @sonic.net. Your password is also the password you picked during sign up.
If you wish to use a mail client, like Outlook, Windows Mail, Mac Mail or Thunderbird, settings can be found at Quick Reference Guide. Walkthroughs and screenshots for these clients are located here.
How do I check my voicemail and modify my phone settings?
Login to Member Tools. Select the voice option for the appropriate telephone number. Click settings to enable or disable call waiting, caller ID blocking, anonymous call rejection, spam call blocking, international 011+ Dialing and call forwarding.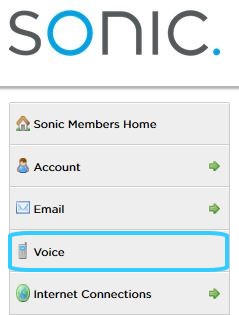 How do I logon to WiFi?
Please visit our Wireless Setup page for detailed instructions.
What benefits does the Sonic Modem Protection Plan offer?
Sonic's rental modem offers dependability and security allowing you to enjoy your service hassle-free and without worry.
Industry-leading security
Equipment support from our award-winning support team
Free shipping, installation and truck-roll service
Should you experience a problem with your telephone or data service while renting a Sonic modem, we will diagnose the trouble and make best efforts to repair the problem at no cost to you.
How do I update my credit card or billing information?
Login to Member Tools. To update your credit card number or expiration date, from the drop-down menu, select Account > Billing Information > Billing Options. Your billing name and address can be updated via Account > Member Information.
How do I read my bill?
We encourage you to read your invoice carefully before payment and understand all services, charges, and credits listed. If you have any questions regarding your invoice, services, or how these totals were created please refer to our example Fusion invoice.
Who do I call for help?
Technical Support is available 7 days a week at support@sonic.net or by phone at 1-888-766-4233 from 8:00am to 10:00pm. A callback from our support team can be requested by visiting https://www.sonic.com/support. Billing Support is available Monday through Friday from 8:00am-5:00pm at billing@sonic.net or by phone at 707-522-1000. Support is closed from 2:00pm to 2:30pm every Friday.
What features come with my Fusion account?
A list of features provided with every new Fusion account are available here. These features can be configured in Member Tools.