Reading and Understanding Your Bill
Reading and understanding your bill or invoice shouldn't be a complicated process, but as your business and needs grow, your invoice can reflect those changes in complexity.
If at any point in time you'd like assistance understanding your invoice, please reach out to our billing department at your earliest convenience. Billing is available Monday through Friday, 8am to 5pm, and are happy to help make sense of your invoice, or answer any billing related questions you might have.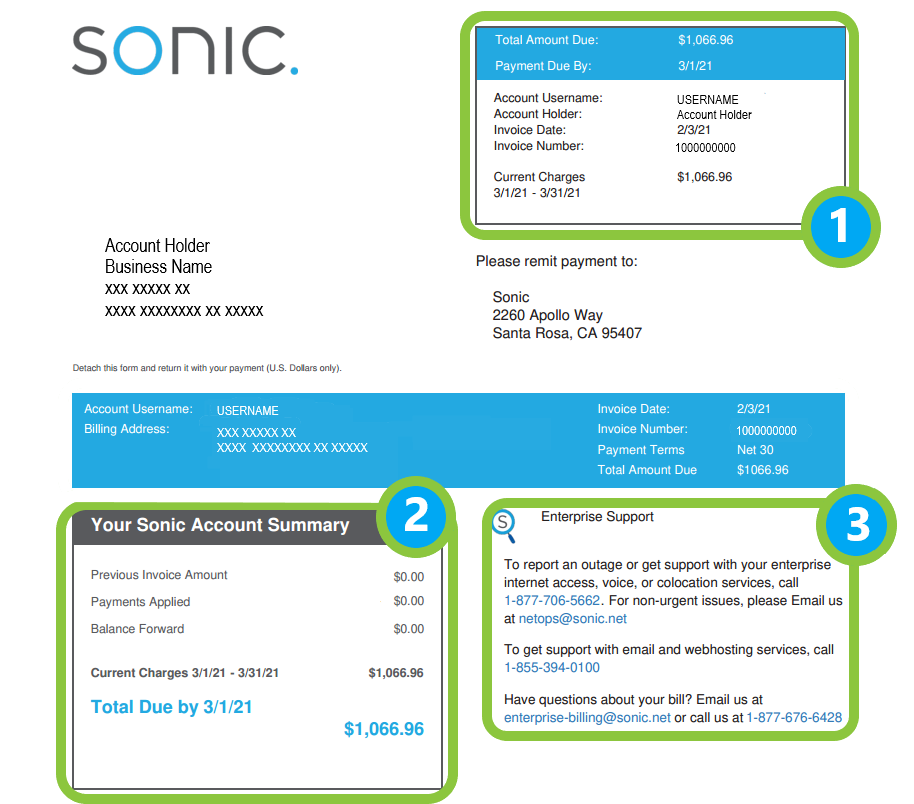 INVOICE PREVIEW. Here is where you can see a brief preview of what your invoice balance is, your due date, your account information, the date the invoice was generated, the invoice number, as well as the service dates covered.
ACCOUNT SUMMARY. This field provides a summary of what your previous invoice amount was (if any) for comparison, any payments/credits applied toward that previous invoice amount for reference, as well as whether
there is any balance remaining that would have rolled forward to contribute to your current invoice total. We then outline your current invoice charges, and the total combined with (if any) balance forward.
ENTERPRISE SUPPORT. Here you can find contact information for our support teams.
LINKED ACCOUNT SUMMARY. Some business customers have multiple locations and therefore multiple accounts, linked for a comprehensive bill. This field will show a summary of all accounts linked as well as the charges each of these accounts have accumulated.
PAYMENTS & CREDITS. Here you will find a list of payments and credits applied to your account from the time your last invoice was generated through to the date in which this most recent invoice was generated. You may also view payment history via Member Tools for more details.
EXTENDED SONIC BILL DETAILS. This field is considered the body of your invoice, providing expanded details regarding the services billed during this billing period. You will see current contact emails indexed (if you need to update this information, please log in to your Member Tools portal or contact Enterprise Billing for assistance), and your normal monthly services listed. For invoices that include multiple linked accounts, please note the USERNAME field in the bottom right corner
of the 'Extended Sonic Bill Details' field for further clarification, as each linked account will have it's own field.
EXTENDED BILL DETAILS (CONT.) You will see a personalized discount reflected and outlined matching your termed rate. This discount will appear as a subtext attached to your service, with a negative sum applied against the book rate for said service.
ADDITIONAL CHARGES / CREDITS. At the very end of this field, any additional charges not associated with your normal monthly services will appear. Any prorates for service charges or credits not included on previous invoices will be calculated and applied to the current invoice. Each prorate will have details regarding service dates covered.