The AdTran 622v is an optical network terminal, or ONT. Essentially, it functions as a modem by providing 10 Gigabit Ethernet as well as phone jacks. The ONT is generally located indoors, and must be adjacent to a power outlet. In some cases it's placed in a box on the outside of the home.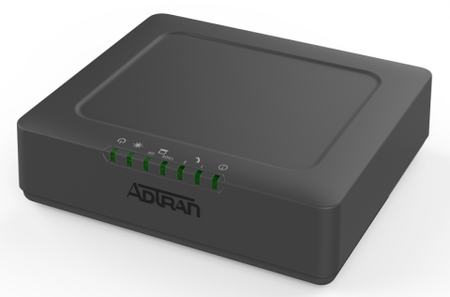 Front LED Panel
The LED indicators on the AdTran 622v run along the front of the unit. Refer to the table below for an explanation of indicator behavior.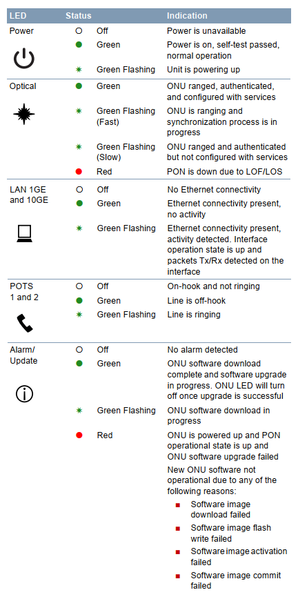 Back Panel Ports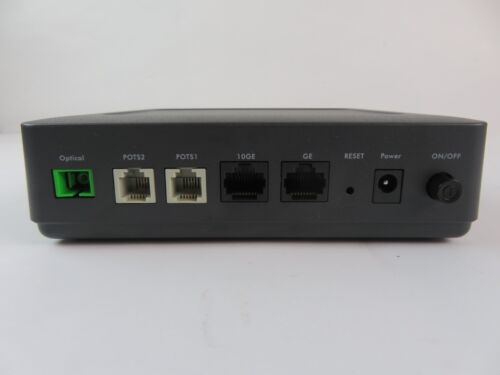 Below is an image numbering each port found on the back panel of the AdTran 622v. Below that is an explanation of each of these ports. Please note the 1G Ethernet Port (#4) is disabled.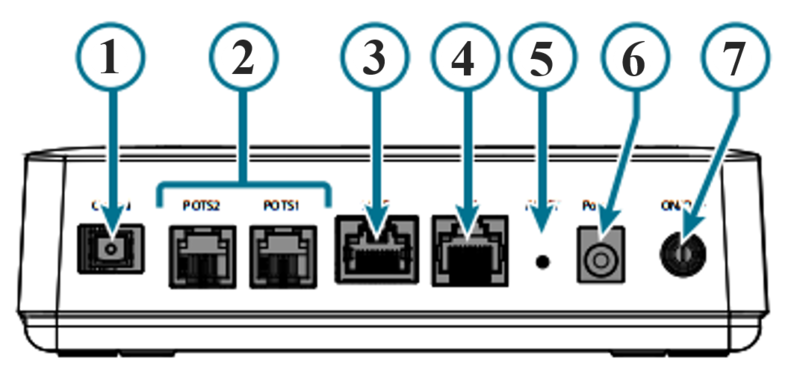 10 Gbps XGS-PON SC/APC connector (WAN)
Two POTS (Phone) Ports
10 Gbps Ethernet Port
1 Gbps Ethernet Port (This port is disabled)
Reset Button
Power Connection for the Supplied AC to DC Power Converter (12 V)
On/Off Button
Factory Reset
A reset button is available if the 622v ONT needs to be rebooted. To reset the 622v ONT, press the RESET button for 5 seconds or longer.
Specifications
Electrical

Input: 12 V DC, 1.5 A

Maximum Power Consumption: 18 W

Power Supply Adapter: 12 V DC Power Adapt

Input Voltage Rating: 100 - 240 V AC

Output Voltage Rating: 12 V DC

Output Current Rating: 1.5 A (minimum)
Optical

TX Power: +4.0 dBm to +9.0 dBm

RSSI max sensitivity: –28.0 dBm

RX overload: –9.0 dBm

TX wavelength: 1270 nm typical

RX wavelength: 1577 nm typical
Physical

Height: 1.7 in (4.3 cm)

Width: 6.1 in (15.5 cm)

Depth: 5.3 in (13.4 cm)

Weight: 0.75 lbs (0.3 kg
Environmental

Operational Temperature Range: 0°C to +40°C

Storage Temperature Range: –40°C to +70°C

Relative Humidity: up to 95%, noncondensing)