The AdTran 822v is an optical network terminal, or ONT. Essentially, it functions as a modem by providing 10 Gigabit Ethernet as well as phone jacks. The ONT is generally located indoors, and must be adjacent to a power outlet. In some cases it's placed in a box on the outside of the home.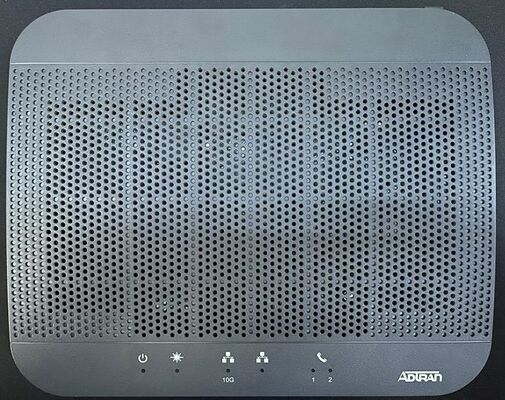 Front LED Panel
The LED indicators on the AdTran 822v run along the top of the unit.

LED Panel
From left to right
Power

Receive Light

10Gig LAN

1Gig LAN

Phones 1 & 2
Back Panel Physical Interface (Ports)
Below is a photo of the back panel along with an explanation of each port

From left to right
WAN:

Fiber cable connection

12V:

Power cable plug

UPS:

A specific plug for certain battery backups.

Phone 1 & 2:

Ports for the phone service. As of right now only one is active.

GE:

Gigabit Ethernet Port

10GE:

A Gigabit Ethernet Port that supports 10 gig.

USB:

Not used in any supported manner.

Reset: For Factory resetting

Power Supply
Fairly standard power supply, outputs 12v 2.5A power.