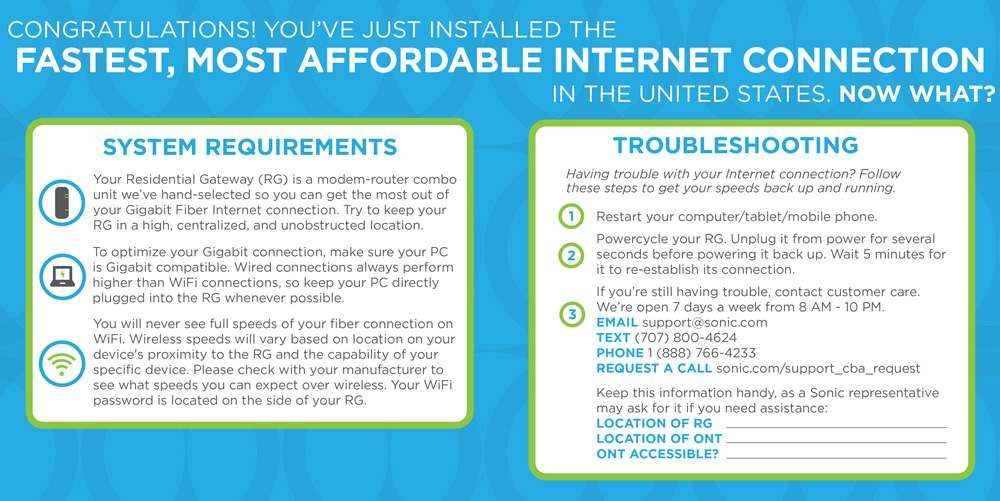 What Is Fiber?
Optical fiber is a highly transparent strand of glass that transmits light signals with low attenuation (loss of signal power) over long distances, providing nearly limitless bandwidth. This technology enables telecommunications service providers to send voice, data, and video at ever increasing rates.
That is the fancy definition. What it means is Sonic is able to provide Gigabit speeds to customers on our Fiber Network, reliably and at the great price of $40 per month!
What Does "Gigabit" Mean?
The term "Gigabit" is in reference to data transfer rate (also known as bandwidth). Sonic Gigabit Fiber affords up to 1,000Mbps (1 Gigabit) download speed. That is a whole lot of bandwidth! To illustrate just how much bandwidth we've made a small list of streaming services and their recommended bandwidth to stream a video (such as The Goonies™) in High Definition.
Netflix: 5Mbps connection
Hulu: 3Mbps connection
Amazon: 3.5Mbps connection
For the majority of folks, the most bandwidth intensive activity on their network is video streaming. On Sonic Gigabit Fiber, if you stream HD video on 10 devices concurrently you'll be using approximately 5% of your available bandwidth. Whoa!
Wi-Fi vs Ethernet
Wi-Fi is a convenient and, at this point, ubiquitous method of connecting to the internet. Phones and tablets rely solely on Wi-Fi for connectivity. Laptops are fast relinquishing Ethernet ports in favor of Wi-Fi. Smart TV's, gaming systems, streaming devices (such as Rokus, Chromecasts, Apple TVs) all connect to the internet wirelessly. Wi-Fi is awesome!
However, with regard to Sonic Gigabit Fiber, Wi-Fi is a bit of a bottleneck. In our tests, on a high end laptop connected to the PACE 5268AC RG via Wi-Fi, the maximum speed we were able to achieve was about 500Mbps (roughly half a Gigabit).
On a phone (iPhone 5s) we were able to achieve about 100Mbps. These kinds of speeds should be sufficient for most tasks however it is good to be aware of the bandwidth limitations of Wi-Fi connectivity.
Wi-Fi is also susceptible to wireless interference. Wireless interference is mostly caused by other wireless broadcasts near your RG. Most devices broadcast wirelessly on the 2.4Ghz radio band, so the majority of the interference exists on that band. The 5Ghz radio band is less crowded (fewer devices broadcast on 5Ghz), and therefore usually experiences less interference but is not immune to it.
Ethernet is the optimal method of connecting to Sonic Gigabit Fiber internet, specifically with regards to speed and stability. Ethernet does have it's draw backs, the most evident of which is the fact your computer is literally tethered to the RG. However Ethernet is not as susceptible as Wi-Fi to interference (EMI can still cause issues over Ethernet) and Ethernet is able to achieve true Gigabit speeds.
Fiber Equipment
All equipment below is provided by Sonic for Sonic Gigabit Fiber customers. The RG is a rented device. Renting the RG is optional but strongly recommended as there are additional perks afforded to customers who rent the device.
Those perks include regular security firmware updates to the RG, free replacement of faulty / bad RGs, free technician dispatches to your premises to troubleshoot and repair damaged / faulty wiring and over the phone support for configuring the RG.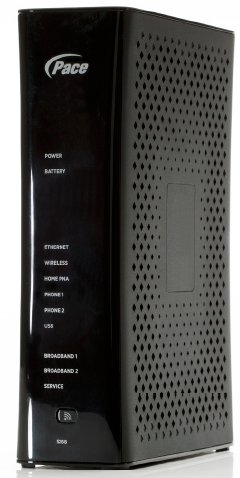 RG (Residential Gateway)
- Sonic Gigabit Fiber utilizes a PACE 5268AC as the RG solution. The 5268AC comes equipped with four gigabit Ethernet LAN ports and a 4x4 MIMO 802.11AC wireless interface. You can learn more about the functionality and custom configuration options for the 5268AC here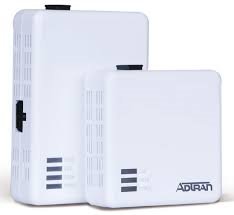 ONT (Optical Network Terminal)
- The ONT essentially functions as a modem. Sonic Gigabit Fiber utilizes an Adtran 411 as the ONT solution, it provides modem functionality as well as a POTS (plain old telephone service) phone jack. The ONT is generally located indoors, and must be adjacent to a power outlet. In some cases it's placed in a box on the outside of the home.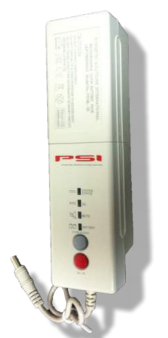 UPS (Uninterruptible Power Source)
- (Optional) This is essentially a battery. The ONT plugs into the UPS which in turn plugs into a power outlet. If you experience a power outage at your home the ONT will continue to be powered by the UPS. This will allow you to make and receive phone calls (provided your phone doesn't require external power). The UPS should provide approximately five hours of battery back-up.
Troubleshooting Your Fiber Service
If you are experiencing an issue with your Sonic Gigabit Fiber service, Sonic Customer Support is available to assist you everyday 8am to 10pm. They can be reached by phone at 888.766.4233, by email at support@sonic.com, and by SMS at 833-836-0300. Below are a few troubleshooting steps for common service issues you can take (if you're so inclined) before reaching out to Support.
Slow Speeds
Slow speeds on Sonic Gigabit Fiber are most commonly due to a hardware / device bottleneck. Below are a few common bottlenecks, how to identify them and how to resolve the issue to restore speeds:
20-40Mbps : If your device is connected to Wi-Fi and getting these speeds there is a good chance the device is connecting with 802.11N as opposed to 802.11AC. Force your device to connect with 802.11AC and test the connection again. Not all devices support 802.11AC so you'll want to check the specifications of your device. Average throughput (speeds) while connected to Wi-Fi with 802.11AC is 100Mbps - 450Mbps.
85-100Mbps : If your device is connected to Wi-Fi then there is a good chance that this is the best throughput the device can manage. This is due to limitations of the antenna on the device. For example, the iPhone 5s has a 1x1 802.11AC antenna and can achieve a maximum of 100Mbps. If your device is connected via Ethernet and getting these speeds then it is possible your device is connecting at "Fast Ethernet" as opposed to Gigabit. If your device is connected at "Fast Ethernet" you'll need to change your network settings on that device for Gigabit. NOTE : Not all devices are Gigabit capable.
500+Mbps : If you get above 500Mbps but less than 1,000Mbps result on a speed test, the most likely culprit is your device. Even brand new devices connected via Gigabit Ethernet can struggle to accommodate full Gigabit speeds.
See also: Troubleshooting Slow Fiber Speeds Over Ethernet, Troubleshooting Wi-Fi
No Connectivity
If you have no internet connectivity on any of your devices, check the following:
The LED's on the front of the RG : If the service light is red then the RG has lost it's IP Address. Usually it only takes rebooting the RG to resolve this. To reboot the RG, unplug it from power for 30 seconds then plug back in.
Check the cables : Make sure the Gigabit Ethernet cable is securely seated into the Ethernet jack on the wall, and into the red Gigabit WAN Ethernet port on the RG. Also confirm the RG is plugged into a power outlet.
Bypass Third Party Devices : Rule out a faulty third party device by disconnecting from the network any Wi-Fi extenders, switches, routers, hubs, etc and test the connection on a single device connected directly to the RG.
Reboot the ONT : If the above doesn't resolve your lack of connectivity issue, you may want to reboot the ONT. To reboot the ONT you'll need to unplug it from the UPS for approximately 30 seconds, then plug it back in.
See also: Troubleshooting No Signal
Voice Issues
No Dial Tone : Dial tone on Sonic Gigabit Fiber comes through the internet, so if you're experiencing internet connectivity issues there is a good chance you'll experience voice issues as well. Rebooting the ONT would be the first step in that case. If you aren't experiencing internet connectivity issues but have no dial tone then you'll want to check your phone. Confirm your phone is plugged into the phone jack, the phone cord isn't damaged and if the phone requires external power that the phone is plugged into a power outlet. If you have another phone to test with that would be a good troubleshooting step as well.
Garbled Voice : If you experience garbled voice on multiple phones then rebooting the ONT should resolve the issue.
Cannot Be Called : If you are getting reports of people not being able to call your Sonic Gigabit Fiber landline there are a few things you can check in hopes of resolving the issue. If you have confirmed all of the below then there is a chance there is a routing issue on Sonic's network. To correct the routing error you should report the issue to Customer Support within 24 hours of an instance of the issue occurring.

Confirm that the calling party is dialing the correct phone number (including area code).
Confirm that the calling party isn't blocking Caller ID information. And if they are, that you don't have Anonymous Call Rejection enabled.
Confirm that you have dial tone.
Confirm that you do not have a call forward in place.
Cannot Dial To an International Number : International dialing is disabled by default, you can enable it in Member Tools. A guide on how to do that is located here. If international dialing is enabled and you are still unable to dial internationally, confirm you are dialing the correct phone number. If you are dialing the correct phone number please give Customer Support a call to report the issue, there may be a routing issue on Sonic's network.
Again, these are just simple troubleshooting steps that resolve most issues. You should be able to perform these steps easily at home on your own. If after performing these troubleshooting steps your issue(s) are not resolved please reach out to Customer Support for assistance.
Wi-Fi Issues
Please see our Troubleshooting Wi-Fi page for help with wireless connectivity issues.
WiFi 6 is Available!
For those struggling with poor WiFi connectivity like slower than expected speeds or occasional network drop outs, WiFi 6 will help you. WiFi 6 is the new standard for wireless broadcast. More information can be found on this here