Confirming the problem
If you notice your internet slowing down, or small pauses where you're not able to pass any traffic at all, Sonic calls this a performance issue. To ensure we're troubleshooting the problem correctly, be sure to check the Broadband light(s) on your Residential Gateway (RG).
If they remain solid while you have the problem, you're in the right place. If the lights begin to blink when you have a problem, please see our Intermittent Sync troubleshooting section.
Begin Troubleshooting
Once you have identified the type of problem you are experiencing can you can then begin troubleshooting and work toward a resolution.
Restart your Residential Gateway
Unplugging the power cable from your residential gateway for thirty seconds, then turning it back on can often clear errors that prevent it from establishing an internet connection. When the RG starts back up, it can take up to ten minutes for it to find the signal for the first time. Subsequent reboot times will be faster because the RG remembers the settings that worked last time.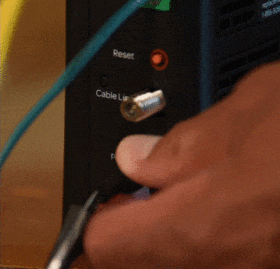 Restart your Computer
Sometimes, your computer, tablet or phone may just be running a little slow. Try turning the device off for a full sixty seconds, then turning it back on. You'd be surprised how often this can clear up a speed issue!
Check your Sync Speed
When troubleshooting slow speeds, it's helpful to know exactly what your Residential Gateway reports as the speed it was able to connect at. This speed will reflect the quality of your physical connection to Sonic at any given time. If this number is lower than the last time you looked at it, there may be a physical wiring problem causing your slow downs or drop-outs.
Please feel free to follow the steps in our Intermittent Sync troubleshooting section, or contact Sonic support so we can give you a hand!
To view your sync speeds on Sonic provided equipment:
Log into your RG by surfing to https://gateway.sonic.net when connected to your Sonic internet connection.
On the first page that comes up, the numbers below the speedometer and the word Broadband indicate your speed in kilobits per second (pictured right). The number next to the arrow pointing downward is your download speed, and the number next to the upward arrow is your upload speed.
If it's helpful, you can convert kilobits to megabits by dividing each number by 1,000. In the example on the right, 65977 kilobits per second (kb/s) is 65.977 megabits per second (Mb/s).
How fast is that actually?
On any ADSL or VDSL connection, between 10-15% of your bandwidth is used up by protocol overhead. Much of the communication that happens between two computers is one side letting the other know it's about to send a message, and the other side confirming it's ready to receive that message, then double checking to make sure it received the right message.
This rule is universal for internet providers, although the percentage of bandwidth taken up by protocol overhead varies somewhat depending on the technology.
Run a Speed Test
Now that we know the actual speed of your link to Sonic, you'll want to run a speed test to determine if you're getting similar speeds to what your Residential Gateway is reporting.
For the above customer, whose Residential Gateway reported a speed of 65977Kbps, we already divided that number by 1000 to 65.977Mbps. If you divide that number again by 1.15, and we can get an effective speed of 57.37Mbps. This means this customer should see at least 57Mbps on a speed test.
To run a speed test, surf to https://www.sonic.com/speedtest and click "Begin Test."
Start with a Wired Connection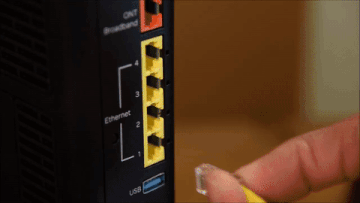 WiFi can run into speed issues due to interference, range and airtime monopolization issues that don't affect wired connections. These are all solvable issues, but in order to isolate the source of the problem, it's best to disconnect from your wireless network and run a speed test while connected via an Ethernet cable.
If you're getting expected speeds via Ethernet, but slower speeds via WiFi, check out our Wi-Fi Troubleshooting section.
Disable Wireless
If you were originally surfing wirelessly, even after you've connected an ethernet cable to your computer your computer still might opt to use your wireless connection. Be sure to temporarily disable your wireless client before running a speed test.
Windows 10
To disable your wireless client in Windows 10:
Search for "View Network Connections," and click on the View Network Connections Control Panel icon.
Right-click on Wi-Fi.
Click Disable.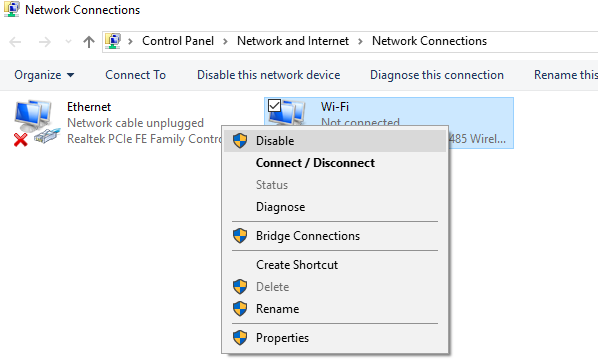 Apple
If you're using a Mac, you can disable wireless access by clicking on the wireless icon at the top right-hand corner of the screen, and selecting "Turn Wi-Fi off."

Simplify Your Network
If you have any additional routers, switches, or extenders between the RG and your computer, please try putting them aside and plugging directly into it. Other devices, if they're not functioning correctly, have the potential to slow down your connection.
Turn off all other network devices
The slow-down you've noticed could be cause another computer, tablet or phone is using up all available bandwidth. Please first try running a speed test with all other devices turned completely off. If you notice that this has significantly improved your speeds, we would recommend bringing the devices back on one at a time, letting them run for five minutes, and then performing another speed test. Through process of elimination, you can find the device using too much bandwidth.
Contact Support
If you've attempted the listed troubleshooting steps and still have not resolved the problem, please contact Sonic Support!. Be sure to let them know the troubleshooting steps you've already tried, so we don't ask you to repeat anything.