2-Step Verification
We take your account security seriously, and part of that is adapting our safeguards to the ever changing landscape of the internet.
Our 2-Step authentication is a mechanism that allows us to maintain the integrity of your account by adding a secondary form of security. 2-Step authentication also enables business and enterprise customers to give multiple users or employees controlled access to our Member Tools for account management.
What is 2-Step Verification?
It's likely that you're already familiar with the concept of a 2-Step Authentication process. If you've used a debit card and withdrawn money from an ATM, or if you've seen one of those spy movies where two keys need to be turned at the same time to launch a missile, the underlying principles are the same; two independent means of security to ensure that only you are able to access your account.
One key is your password, the other is a randomly generated one-time use code. 2-Step authentication falls under the broader umbrella of MFA, or Multi-Factor Authentication, and more information concerning this can be found here: Wikipedia-Multi-Factor Authentication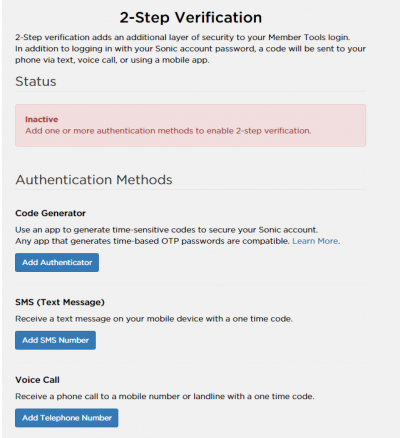 Setting Up 2-Step Verification
Once you've logged into Member Tools, you can access the 2-Step Authentication settings by going to "Account", then "Member Information". To enable 2-Step Authentication, decide how you want to perform the second step of your authentication.
While we strongly recommend all accounts utilize 2-Step Authentication, if for whatever reason you would like this disabled, Support can disable this security feature on an account at the administrators request. Additionally, an email will automatically be generated to notify the account holder of any changes to the 2-Step system, so every step of the way you're kept in the loop.
Code Generator Verification
A code generator is an App you can download for your smartphone. It links to your Sonic account, and generates a one-time use, time sensitive code for use with our 2-Step Verification system. Google and Microsoft provide apps for their respective mobile phones, while the FreeOTP and Google Authenticator work for both Android and iOS devices.
Download a barcode scanner from the app store. (optional)
Select "Add Authenticator" from the Member Information page.
Provide a name for the device.
Type in the 16 Character key into your chosen Authenticator. If you're using a barcode scanner, use the scanner on the QR code in the middle of the screen.
A code should appear on your Authenticator. Type this into the "Confirm Auth code" field in your browser.
If everything was entered properly, your Authenticator should be linked with your account.
Next time you sign into Member Tools, you will be asked to provide a 6-digit code. Simply open your Authenticator app, type in the number displayed there.
You have now authenticated with our 2-Step Verification.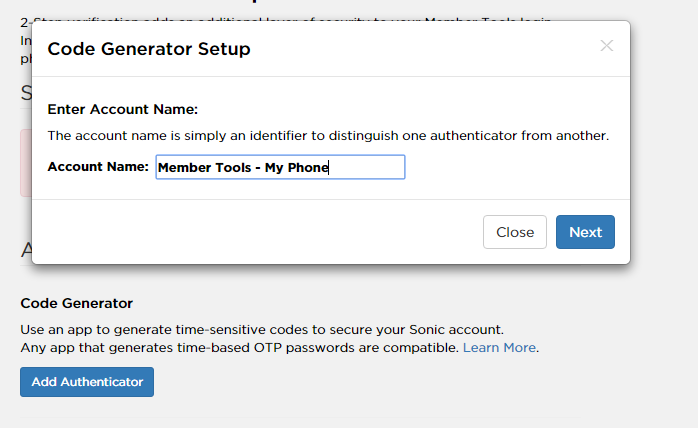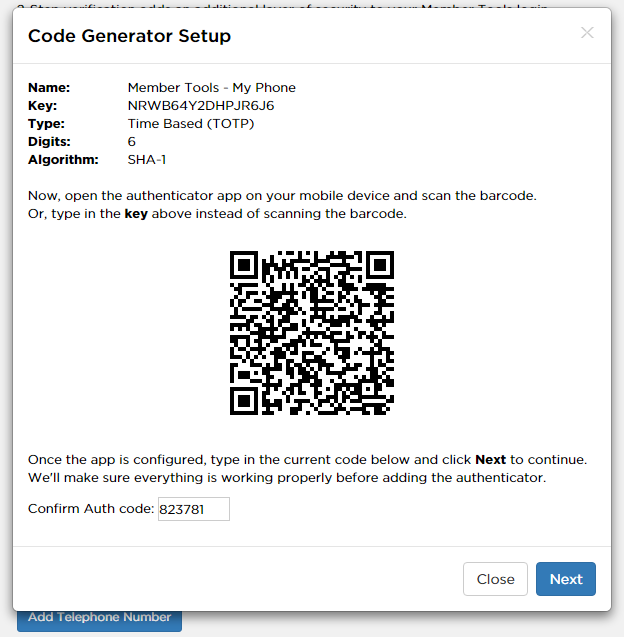 SMS / Text Message Verification
If you'd rather not install an app, or if you don't have a smartphone, you can also receive a one-time use code via text/sms. By associating your mobile number with our 2-Step Verification system, we can generate a random code for you on demand.
Select "Add SMS Number"
Specify your 10-digit cellphone number
We'll send you a fresh, one time use code as a text to verify your number
Enter this code in your browser
You have now authenticated with our 2-Step Verification.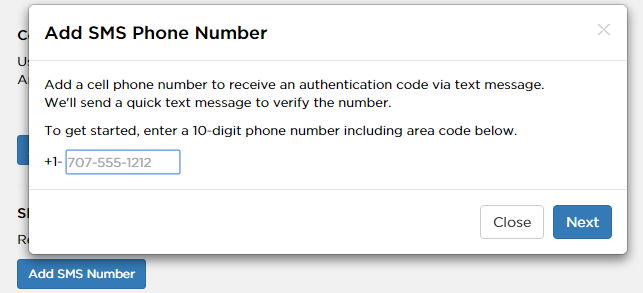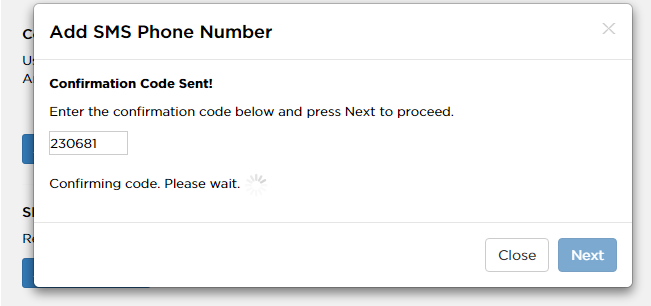 Call Verification
By entering either a landline or mobile phone number here, our automated system will give you a call, and provide a single use authentication code when necessary.
Select "Add Telephone Number"
Specify a landline or mobile number
Our automated OTP (one time password) system will call you, and will play a recording of a randomly generated code
Enter this code in the "Confirm Auth code" field
You have now authenticated with our 2-Step Verification.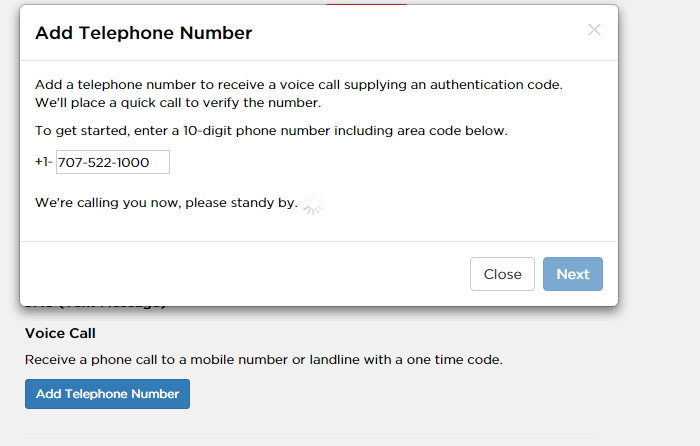 Enabling & Disabling 2-Step Verification
If at any time, you wish to temporarily disable 2-Step Verification, log in to Member Tools, Account Information, head down to to 2-Step Verification, and click Turn Off or Turn On.
In the event you're locked out of your account, the only way to disable 2-Step Verification is to call customer support. After you've been verified as the account holder, support will disable it so you can re-configure your additional authentication methods.