Congratulations! You are set to get Sonic Fusion today (or in the near future!) This article will help you understand what to expect during setup and get you on your way to enjoying your new service!
The Drop
The drop is the first part of your Fusion set up. On the day of the drop, a technician will come out and make sure there is a good, working line running to the phone box (also referred to as the Minimum Point of Entry, or MPoE) at your address. In some instances, this can be done without needing to visit the phone box.
The installation window for the drop is from 8am-8pm - although we request AT&T shows up before 12pm. If the phone box is not publicly accessible, someone over the age of 18 will need to be present to grant access. A phone box is inaccessible if it is behind a gate, in your garage or basement, or if a dog is guarding your yard.
For residences that act as standalone homes, you can quickly find the phone box to determine it's accessibility; for apartment complexes, we suggested contacting the landlord or property manager to find out what access requirements there are.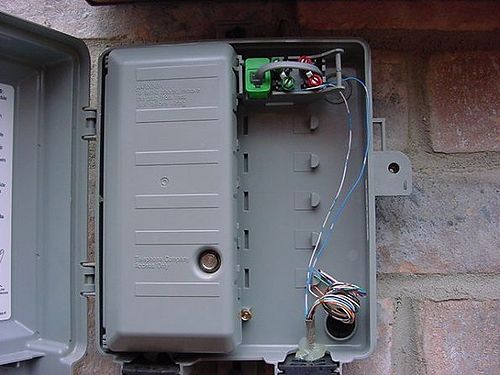 A standard phone box.
Equipment
You should receive your Sonic Residential Gateway within a day of the Drop. If you receive it early, feel free to plug it in! (Note: If you are using another carrier that utilizes phone lines like AT&T, you may need to keep their modem plugged in until the day of the Drop.)
To connect your RG, connect from your phone jack to the green port on the back of the RG with the green cable we provided. For instances where you would like to connect a phone to the same phone jack as the RG, we have provided a splitter to do so. Make sure that any other phones you have connected at other jacks are using the filters that came in the same box as your RG.

Connect the green phone cable from your phone jack (or filter/splitter) to the green port of the Residential Gateway.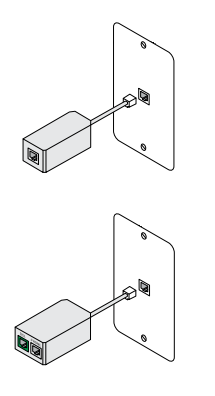 Top: Line Filter
Bottom: Line Splitter
Service
Once the drop has been completed, you will get an e-mail from us letting you know! If you haven't already, go ahead and connect your RG. Give your RG about 5-10 minutes to boot up. You should have a solid green Power, Service and Broadband light (if you signed up for Fusion X2, both Broadband lights should be solid green).
Now you should be up and running! If connecting via Ethernet, go ahead and connect your devices now if you have not already. Otherwise, you can connect through Wi-Fi. The name and password will be listed on the side of the RG.
Service
If you are not able to establish a connection after setting up your equipment, check service at any other phone jacks you may have. With a landline phone, you can plug into each jack and quickly test for dial tone.
If you only have the RG available, you can plug it into another jack to test. Be sure to wait up to 10 minutes for the RG to make a connection. For situations where you are unable to get dial tone or the RG to connect at any phone jack, it's time to reach out to Sonic Support so we can help.
Run into trouble connecting through Wi-Fi? Check out our Wi-Fi Setup Guide or video.

Both Broadband 1 and Service lights should be green when everything is working properly.
Further Reading
If you're good with your hands and are interested in making the connection from the MPoE to the internal wiring yourself, please refer to our cross-connect guide for more information.Further Reading