Thunderbird Setup
This document is intended to assist in the first-time setup of Mozilla Thunderbird to use Sonic.net to send and receive email.
Download and install the Mozilla Thunderbird from GetThunderbird.com.
Under Accounts click on Create a new account - Email then click "Skip this and use my existing email". You will be prompted to provide your name, email address, and password.
The name you provide here will be displayed to recipients of your outbound mail. Click "Continue".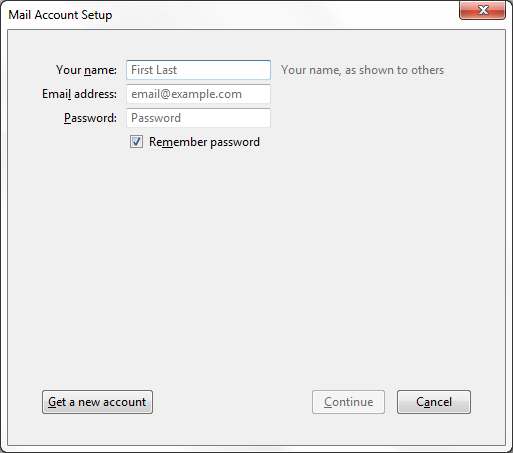 You will be prompted to verify information about the Sonic.net mail servers. Select "IMAP (remote folders)".
"Incoming" is imap.sonic.net
"Outgoing" is mail.sonic.net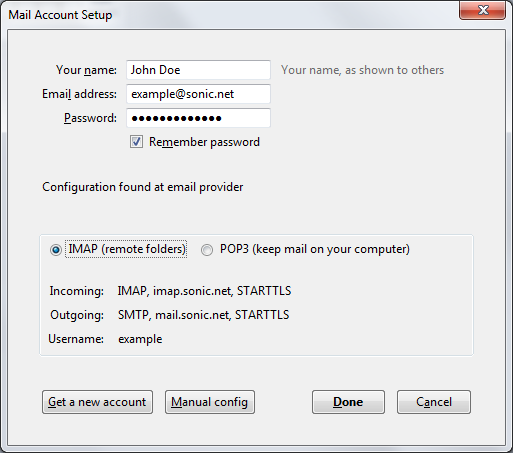 Click "Done" to create your account.
Sonic.net recommends the use of secure connections when retrieving or sending mail. Specifically you will want to enable SSL for incoming mail as shown here and both "Normal Password" and "SSL/TLS, if available" for outgoing mail, as shown here.
Thunderbird IMAP Settings
The majority of settings available in Thunderbird are purely a matter of personal preference. This document is intended as a reference for troubleshooting purposes.
Getting to Account Settings
To access the account settings in Thunderbird, open Thunderbird, select the Tools menu and click "Account Settings."
Account Settings
The first page you will be shown is the Account Settings. Here you can specify your name, email address, and reply-to address. If your reply-to address is your Sonic.net email address, you can leave this field blank. The Organization field is purely optional. You may wish you place your company name here. In the Account Settings you can specify a signature to place at the bottom of every email you send. If you are using an HTML signature be sure to place a check in the "Use HTML" box.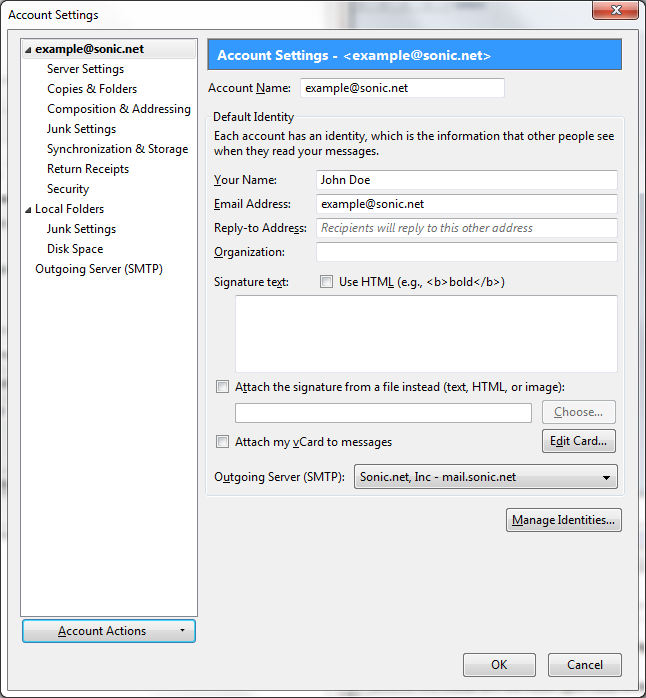 Server Settings
In the Server Settings category, your Server Type should be "IMAP Mail Server." If this is incorrect, you will have to create a new IMAP mail account in Thunderbird to change it.
The Server Name should be "imap.sonic.net."
The User Name should be your Sonic.net account name in lowercase, and the Port should be set to 993. If the Port field is set to 143, you may want to select the SSL/TLS option in the "Connection Security" drop down menu under the "Security Settings" section.
All other settings here are purely optional.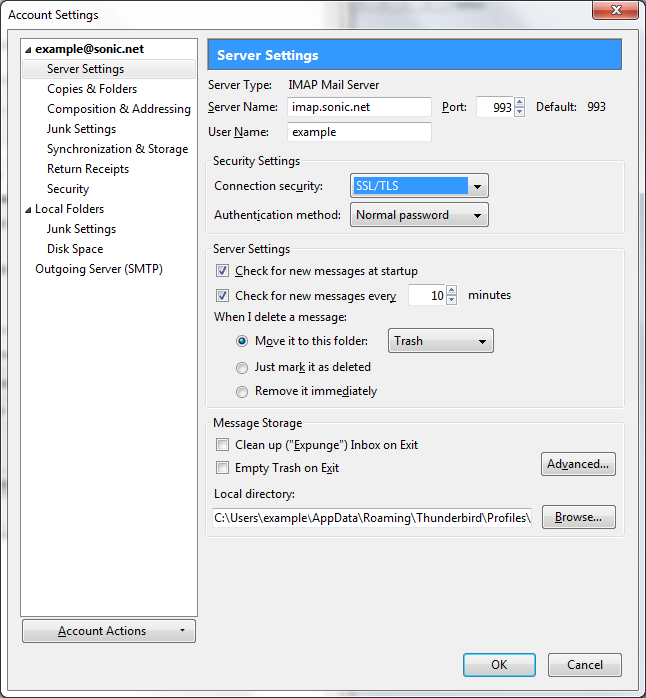 Copies & Folders
All settings in the Copies & Folders category are a matter of personal preference. Set these as you please.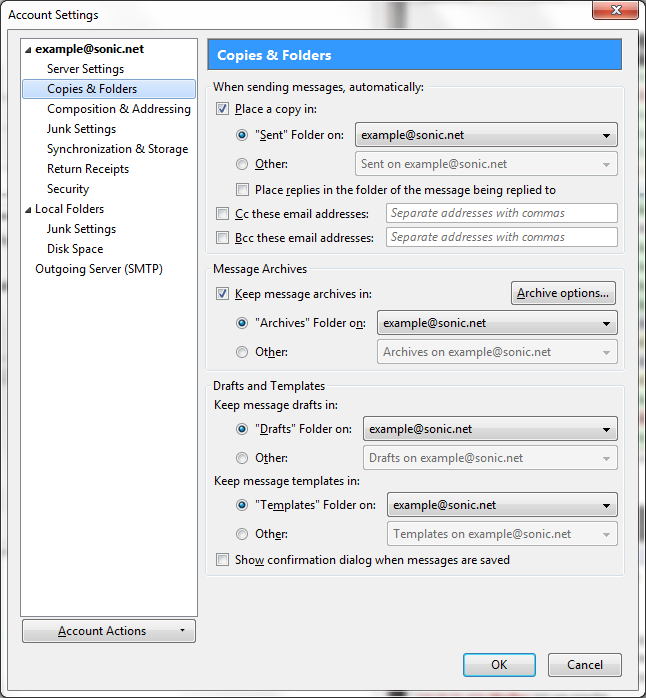 Composition & Addressing
In the Composition & Addressing category, you can specify whether you wish to compose messages in HTML, and whether you wish for quotes (used in replies) to appear above your reply or beneath it. These are a matter of personal preference. Set these as you please. Unless you have a specific reason not to, you should select "Use my global LDAP server preferences for this account." This is optional, and you can specify a different LDAP server if you like.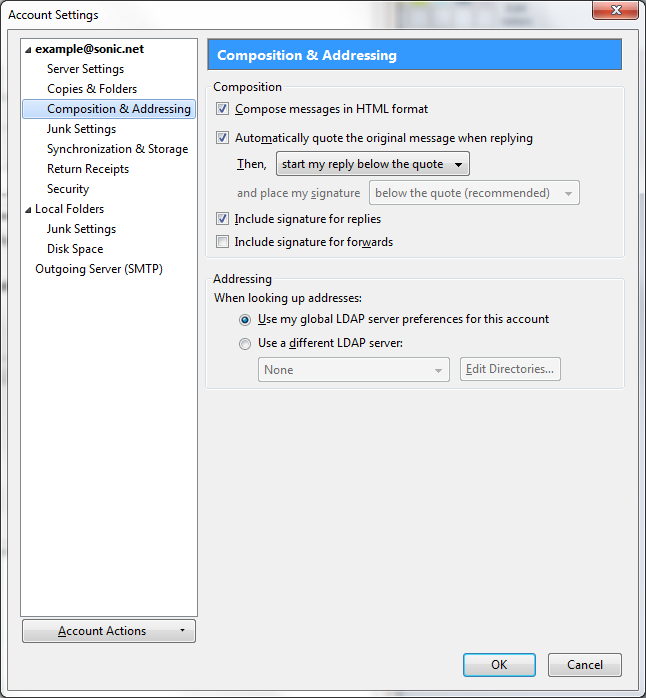 Synchronization
Default settings here should be fine. Use caution with the Disk Space category. If you limit the size of messages downloaded, you may miss important correspondence.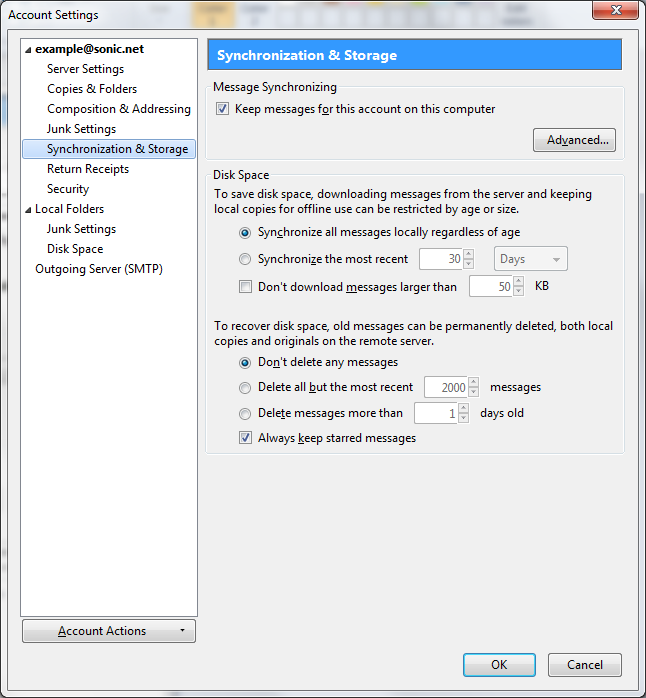 Return Receipts
The settings in the Return Receipts category are purely optional. The default setting of "Use my global return receipt preferences for this account" will suit most needs.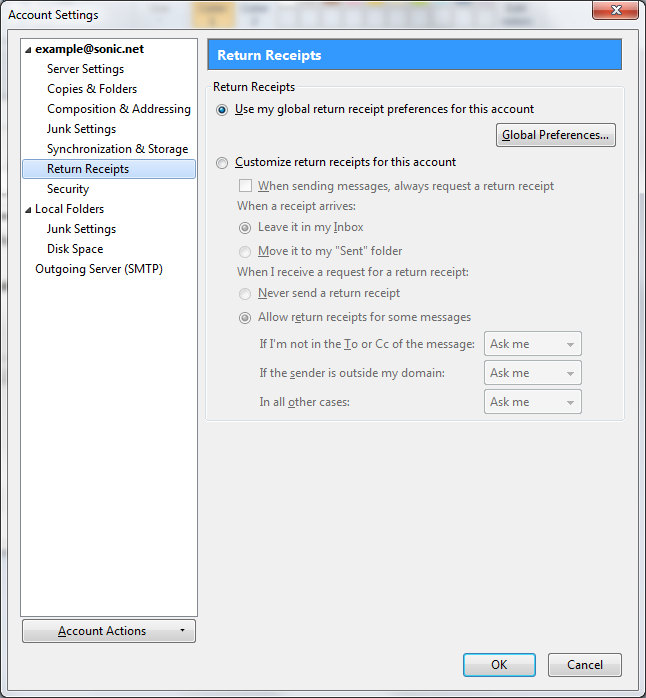 Security
In the Security category you can specify your default encryption and digital signing methods. This is a matter of personal preference, and for most purposes does not need to be configured.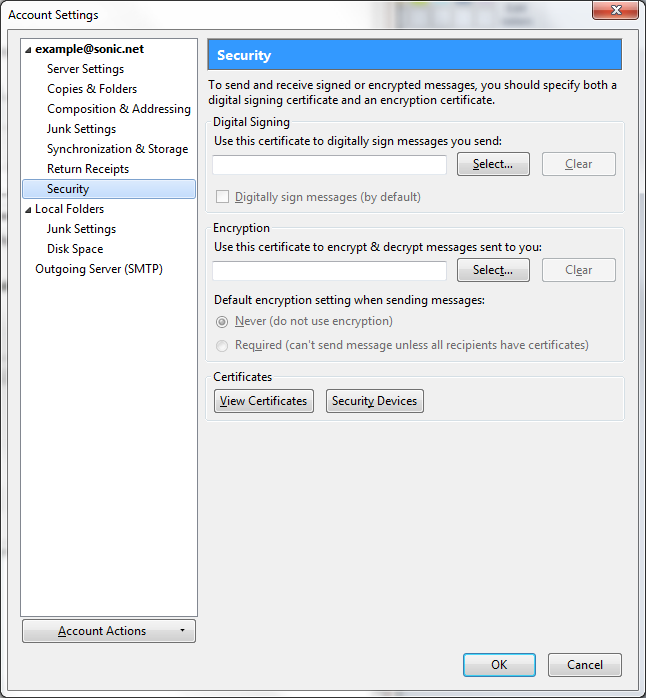 Outgoing Server (SMTP)
The Outgoing Server category is where you can change your outbound mail server settings. Multiple outgoing mail servers can be configured here through the "add" and "edit" buttons.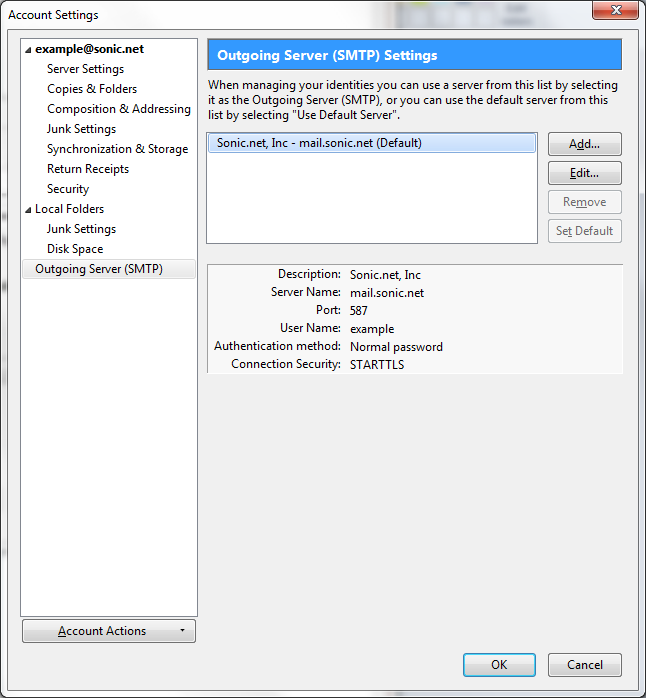 Edit Outgoing Server
The server name when connected through Sonic.net is mail.sonic.net. We recommend that you set the Port to "465" and use SSL/TLS. Authentication method should be set to "Normal password" Username will be your Sonic.net username.