A Sonic email account (or email address) resides under a main account that has internet, hosting, or business services. When you sign up, the main account provides you at least 1 email account.
If you need additional mailboxes, they can be purchased in groups of 4. You will be charged per group when you add the first mailbox of a group. Each group costs $6.00 per month. With your Sonic Internet + Phone service, you can receive up to 15 email accounts for free.
How to Add an Email Account
You can use the Manage Mailboxes Member Tool to add email addresses, remove them, and to change passwords.
Login to Member Tools
Navigate to 'Email' and then 'Manage Mailboxes'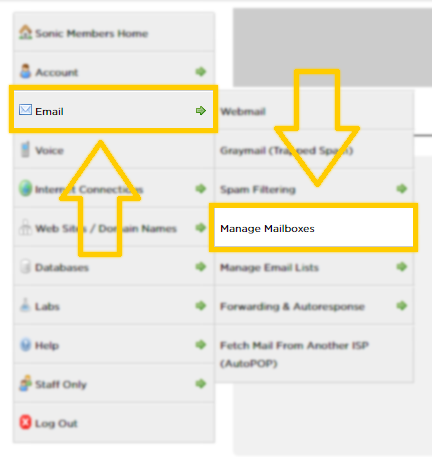 Enter the username you want for the new mailbox and then click continue.

You will see a page confirming the username you just entered, simply click continue if what you entered is correct. If the username you requested is already in use, then you will get a warning stating as such and you will need to navigate back to the Manage Mailboxes page and enter a new username.
Once you have selected an available username you will be asked to enter a password for that mailbox. Enter the password in both required boxes. You will need to make sure your password meets the minimum requirements in order to move on. Once you have a password entered click continue to finish adding your mailbox.

Manage Your Mailboxes
Once you have created a mailbox you can manage it from the Manage Mailboxes area. Simply click the radio button next to the mailbox you want to manage and then click continue.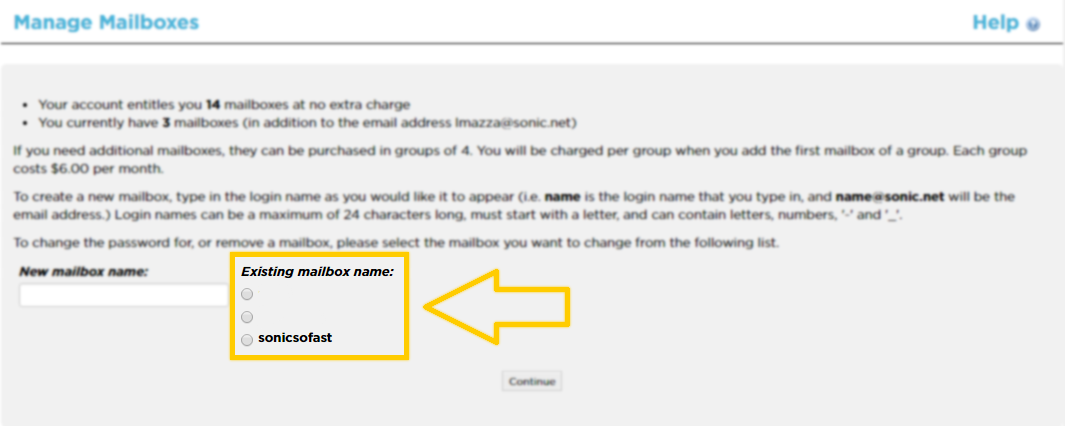 There are 2 options for managing your mailbox: changing the password or removing it. Both a relatively straightforward in use. Please be aware that removing a mailbox results in the loss of any emails that are currently in that mailbox.

Additional Information
Each mailbox has a limit 1.25 GB of email storage.
Spam is not allowed on Sonic; all email use is subject to our Policy
Forwarding email
You can setup email forwarding for your Sonic email. For more information check out our Email Forward page.
Email Auto Response
You can also setup auto response for your Sonic email. To learn how to do that please check out the Email Auto Response page.