Got lost looking for Fusion Fiber / IP Broadband Voicemail settings? Click the following link
https://help.sonic.com/hc/en-us/articles/236030567-Fiber-IP-Broadband-Voicemail
All Sonic Fusion Voice service lines come with voicemail services at no additional cost and can be enabled and disabled in the Member Tools at https://members.sonic.net/voicemail/settings.
Our voicemail service is designed to give customers a unified messaging solution where voice messages are delivered as email to our customers. By default, voicemails are delivered to a folder 'Voicemail' that can be accessed using IMAP or webmail. When delivered to the default folder, users are also able to playback messages using the web-based interface in the Member Tools or by using a more traditional phone-in system.
General Voicemail Setup and Configuration
How do I enable voicemail?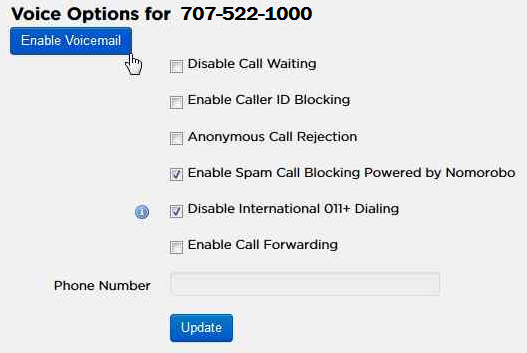 You can enable your voicemail service within Member Tools.
Head to the Voice Options section in your Member Tools account: https://members.sonic.net/voice/settings/
Click on the phone number you'd like to enable voicemail for.
Click on 'Enable Voicemail' to enable. You will then be prompted to enter a 4 digit Personal Identification Number (PIN) for accessing the voicemail system via telephone.
How can I access the phone-based voicemail system?Use one of the following methods to reach your voicemail box, then enter your PIN when prompted:
Dial *99 from your landline.
Dial your own number, from your landline.
Dial your own number from anywhere; when you hear the greeting press '*' to access the private menu.
Dial (707) 583-7700 when calling from another carrier and enter your phone number when prompted.
How do I change my voicemail password (PIN)?

You can update your voicemail password in the voicemail member tools or by accessing the phone-based voicemail system and pressing 6 followed by 1 in the IVR Menu.
Can I change how many times the phone rings before voicemail answers?
Yes, through member tools.
Twitter + SMS Notifications
Can I receive a text or a tweet when I get a new voicemail?
Yes! You can add an SMS or Tweet notification in member tools.
I'm not receiving Twitter notifications.
You must follow @fusion_vm in order for fusion_vm to be able send you a direct message. We promise we will never use this Twitter account to post anything else.
Voicemail Greetings
How can I record a new greeting?
At this time, the only way to record a greeting is to call into the phone based system, log in and then press '7' to manage your greeting.
Can I record two greetings and then change between them?
No, not at this time. You can currently only have a single greeting.
Voice 2019 Update
To save our customers time, we have updated our voice mail system on Fusion Fiber, Fusion IPBB and Enterprise voice services. We will be removing the auto generated message "At the tone please record your message when you have finished the recording simply hang up or press pound for further options."
This update will only remove the auto generated message and leave your personalized message as is.
Voicemail Messages
What are considered voicemail messages?
Messages received by someone calling your phone number
How can I listen to my messages?
There are three ways to listen to your messages:
Using the traditional phone-based system.
Using the voicemail playback tool at https://members.sonic.net/voicemail/messages/ .
In your email. If you are using IMAP (or webmail), you can subscribe to the 'Voicemail' folder with your mail client. Your voicemail messages will show up automatically in your email client. If you prefer voicemails in your normal inbox, you can change the delivery folder in the member tools.
Please note: if you change the folder from the default you will not be able to listen to messages using either of the other methods.
Do voicemail messages automatically expire?
Yes, any messages on our servers in /Voicemail will automatically be expired after 90 days.
Is there a limit to how many messages I can keep?
No. Since voicemail messages are stored in your email, they are accounted against your disk quota.
Is there a message length limit?
Yes, currently messages are limited to 10 minutes.
Can I forward a voicemail message to another email address?
Yes, you can forward voicemails to as many other email addresses as you like. This is configured through member tools.
My MWI (Message Waiting Indicator) or stutter dial tone is stuck on; can I turn it off somehow?
No, at least not directly. This could happen because the MWI was turned on, then you updated your configuration to not use the default /Voicemail folder or removed voicemail entirely so our systems no longer think they can keep MWI in sync. The easiest way to turn it off is to set your voicemail folder back to the default, enabling voicemail if needed and, leave yourself a message and then mark it read. Then you can change the folder back to whatever you'd like.
Multiple Voice Lines
I have two Fusion Voice lines, can I assign one of them to my ... so they can manage the settings?
Yes, when a voicemail box is associated with a mailbox the mailbox has the ability to manage the voicemail settings in Member Tools. See the next section for details.
I have two Fusion Voice lines and want voicemail on both of them but with different greetings and delivery options; how can I set that up?
Since the voicemail options are dependent on the account they are associated with, the only way to do separately manage voicemail for two lines is to assign one to a separate Email mailbox. If you have multiple Email accounts (mailboxes), the tools will prompt you for which one of your Email accounts you want the voicemail account to be associated with when you enable voicemail for a phone number.
When a voicemail account is associated with a mailbox the mailbox can manage the voicemail options in the Member Tools. Please note, if you've already associated a phone number with a voicemail account you must first remove the voicemail before you can associate it to another account.
IVR Menu Tree
What is the IVR menu tree?
An IVR (Interactive Voice Response) menu is a phone menu that you can operate using the numbers on your phone's keypad.
1 Play New Messages

1 Replay Current Message
3 Delete Message
4 Mark Message New
6 Listen to Message Envelope
# or 2 Next Message (Does not delete current message)
* Back

2 Play Old Messages

1 Replay Current Message
3 Delete Message
4 Mark Message New
6 Listen to Message Envelope
# or 2 Next Message (Does not delete current message)
* Back

6 Manage Voicemail Options

1 Change Password
2 Change Rings
3 Remove Voicemail (will currently direct you to the member tools.)
* Back

7 Manage Greeting

1 Listen To Current Greeting
2 Record New Greeting

1 Listen to New Greeting
2 Save New Greeting
3 Record Greeting Again
4 Back

3 Use Default Greeting
* Back

8 Exit (Or Hangup)