What is the ATA?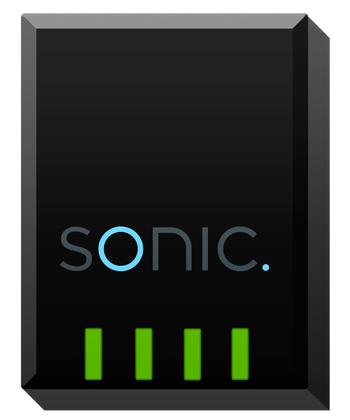 The ATA is an Analog Telephone Adapter. It connects to the internet, registers with our voice network, and acts as a bridge to deliver Fusion Voice over your IP Broadband connection.
Essentially, it emulates a standard telephone jack. Any phone should work in conjunction with the ATA, as long as it has a standard RJ11 telephone cord.
What does it do?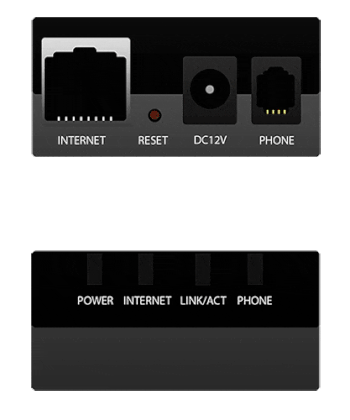 The ATA connects to our voice network over your IP Broadband internet connection, providing crystal clear call quality, and a host of other features that bring your landline up to date. With the ATA, you have access to unlimited local and nationwide calling, all of the phone features you've come to expect, such as three way calling, call waiting, caller ID, as well as additional features like Voicemail, Call Forwarding, Call Blocking, and Spam Call Blocking powered by Nomorobo.
In addition to this, you also get free international calls to certain locales, as part of borderless calling.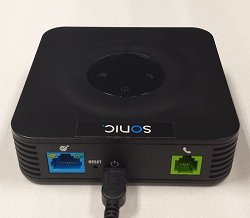 There are two versions of the ATA. Your device may look like this and the LED's described above will light up in the little clear plate at the top of the ATA.
Installation
Installation should be fairly simple in most cases. Ensure the ATA has access to an AC power outlet, and that once plugged in, the power light is illuminated. Next, connect your phone, or your phone's base station, into the phone port on the rear of the unit. Next, connect an Ethernet cord from the rear of the ATA to a LAN port on the back of your Sonic IP Broadband modem.
The first boot can take upwards of 30 minutes to fully register, but most of the time this should only take 3-5 minutes. Once the ATA is fully registered, all four of the LED's should be illuminated in green, and you should be able to make and receive telephone calls.
If you have any issues, please contact our support team at your earliest convenience. Do not reset the device unless explicitly instructed to do so by a Sonic representative. Doing so can cause significant downtime for your voice service, and requires manual intervention and configuration.
Front LED Panel
 
Power
This light indicates whether the power is connected.
Internet
Remains solid green as long as there is an established connection to the

RG

.
Link/Act
Blinks to indicate exchange of data between the

RG

and ATA.
Phone
Indicates registration. Will turn solid green when ATA registers successfully and calls can be placed.
Voice Options
Phone Codes
For a comprehensive list of available phone codes, including star codes, such as 411, *69, etc.. please visit Telephone Codes
Fusion IP Broadband Call Blocking
If you'd like to block a specific telephone number, please follow the detailed instructions here: Fusion IP Broadband Call Blocking
Troubleshooting
Loss of Dial Tone
Dial Tone is necessary when making telephone calls. There are certain circumstances, such as power outages or system maintenance that can cause temporary loss of dial tone. If you experience a loss of dial tone, ensure the LED's are properly illuminated, and that your phone is connected securely to the rear of the ATA.
Next, power off the device for a full minute, and then power it back on. After waiting 5 minutes, attempt to make another call. If unsuccessful, contact support as soon as possible so we can troubleshoot and work towards resolution of the issue.
Cannot Make Outbound Calls
If you are unable to make telephone calls, it's possible that the device has been reset, or that the device has failed to register either within its initial registration phase (60 days from your account creation) or that it somehow failed to register due to system maintenance or an outage.
Each ATA registers with our network on an hourly basis; if it misses registration, it will not be able to complete outbound calls, and must re-register with our network before proceeding. If you're experiencing trouble, Support can re-issue this authentication. Simply give us a call, send us a text or email, and let us know!